Velocity Micro® Wins 17th PC Magazine Editors' Choice Award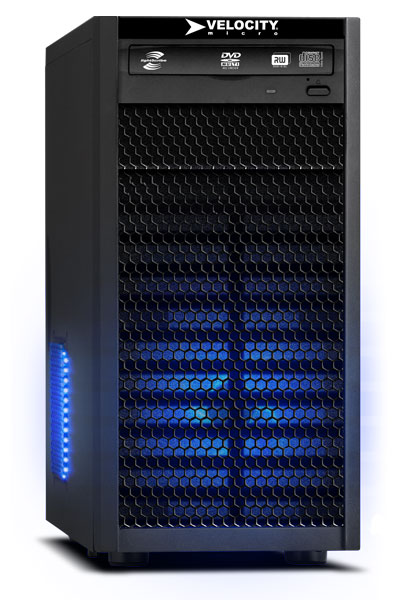 Home/Office focused Vector™ Z25 lauded for its value, performance, and design
Richmond, VA — April 18, 2013 — Velocity Micro®, the premier builder of award winning enthusiast desktops, laptops, peripherals, and Cruz™ tablets has won another PC Magazine Editors' Choice award, their 17th from the highly regarded publication alone. The newly decorated desktop, the Vector™ Z25, is designed for home and office use but also handles enthusiast tasks such as video editing and gaming dutifully, according to the magazine. The Vector™ Z25 is available today on VelocityMicro.com starting at $749, with systems matching the reviewed configuration available for $999.
"Every award that we win is special, representing enormous amounts of hard work by everyone involved, from our product development team, to our engineers, down to our hardware and software partners," said Randy Copeland, President and CEO of Velocity Micro. "But PC Magazine's Editors' Choice award is one of the most prestigious in our industry and seventeen of these awards is a major accomplishment. This is truly a team effort, and one that I'm very proud to have been a part of."
The editors at PC Magazine praised the Vector™ Z25 for its robust performance, ample expansion space, and incredible value. Priced at just $999, the award-winning system featured the following configuration:
Intel® Core® i5-3470 processor
Intel® BOXDH77EB mATX motherboard
8GB of DDR3-1600 Patriot® Memory
NVIDIA® GeForce® GTX 650 Graphics
1TB 7200 RPM Hard Drive
32GB Intel 525 Series mSATA drive for Intel Rapid Start and Smart Response Technology
Windows® 8 (Windows 7 also available)
All Velocity Micro desktops are hand built and supported in the USA. To custom configure the award winning Vector™ Z25 or any other home office, workstation, enthusiast, or gaming desktop, notebook, or All-in-one, visit VelocityMicro.com.
About Velocity Micro, Inc.
Velocity Micro, Inc. is the premier high-performance personal computer provider in North America. Founded in 1992, Richmond, Va.-based Velocity Micro custom builds award winning gaming, mobile, multimedia, small business, workstation, visual supercomputers and peripherals. Velocity Micro products are currently available at most consumer electronics retailers nationwide. For more information, please call (800) 303-7866 or visit www.VelocityMicro.com
Velocity Micro has earned over 60 industry awards, including 17 PC Magazine Editor's Choice awards. CNET, Maximum PC, Mobile PC, PC World, Computer Gaming World, Computer Shopper, and PC Gamer editors have all chosen Velocity Micro systems as some of the industry's best-performing, highest-quality, and most reliable PCs.
Media Contact:
Josh Covington
804.897.6166 x211
jcovington@velocitymicro.com