Velocity Micro Announces the Immediate Availability of Systems Featuring
NVIDIA® GeForce® GTX 660 Ti Graphics
Editors' Choice Award-winning custom configured systems with this ground-breaking GPU start at $1,149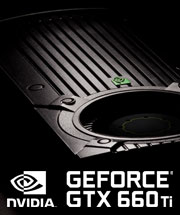 Richmond, VA — August 16, 2012 — Velocity Micro®, the premier builder of award winning enthusiast desktops, laptops, peripherals, and the remarkable line of Cruz™ tablets announces the immediate availability of the NVIDIA Geforce GTX 660 Ti in select systems including the multi award-winning Edge Z40, CNET Editors' Choice Edge Z55, and PC Magazine Editors' Choice Vector Campus Edition. Custom configured Velocity Micro systems begin at $749 with desktops powered by the GTX 660 Ti starting at $1,149.
"With the GTX 660 Ti, NVIDIA has once again created a GPU that pushes the envelope for performance and value, putting it right in the sweet spot for most gamers and enthusiasts," said Randy Copeland, President and CEO of Velocity Micro. "We're proud to be able to offer it to our customers at launch."
The Kepler-powered GeForce® GTX 660 Ti is the ultimate combination of performance, power efficiency, and affordability. Key features include:
1.5x faster performance than the previous-generation GTX 560 Ti
Up to 2x better power efficiency than the previous-generation GTX 560 Ti
Ultra-smooth gaming experience with exciting new NVIDIA technology advancements such as Adaptive Vertical Sync, which dynamically enables VSync based on current frame rates for maximum playability
NVIDIA® Surround™ multi-monitor gaming on a single GPU (three gaming monitors plus one accessory display)
Support for new temporal antialiasing (TXAA) technique that delivers the ultimate combination of image quality and performance in games like The Secret World
Full DirectX 11 support for detailed, lifelike characters and environments in The Secret World and Max Payne 3
Supercharged NVIDIA PhysX® performance for realistic simulation effects in Borderlands 2 and PlanetSide 2
For more information on Velocity Micro or to purchase one of these award winning PCs featuring the NVIDIA GeForce GTX660 Ti, visit www.VelocityMicro.com/660.php.
About Velocity Micro, Inc.
Velocity Micro, Inc. is the premier high-performance personal computer provider in North America. Founded in 1992, Richmond, Va.-based Velocity Micro custom builds award winning gaming, mobile, multimedia, small business, workstation, visual supercomputers and peripherals. Velocity Micro products are currently available at most consumer electronics retailers nationwide. For more information, please call (800) 303-7866 or visit www.VelocityMicro.com
Velocity Micro has earned over 60 industry awards, including 15 PC Magazine Editor's Choice awards. CNET, Maximum PC, Mobile PC, PC World, Computer Gaming World, Computer Shopper, and PC Gamer editors have all chosen Velocity Micro systems as some of the industry's best-performing, highest-quality, and most reliable PCs.
Media Contact:
Josh Covington
804.897.6166 x211
jcovington@velocitymicro.com