Velocity Micro® Announces the Immediate Availability of NVIDIA® GeForce® GTX 10 Series Laptops
New Signature 17, Signature 15, and ProMagix M17SLI are powered by GeForce GTX 1060, 1070, and 1080, available now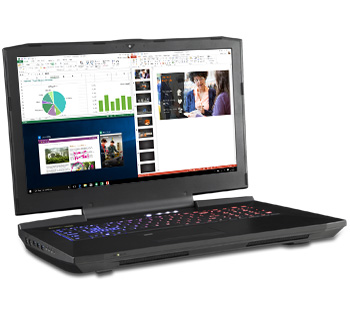 Richmond, VA — August 18, 2016 — Velocity Micro®, the premier builder of award winning enthusiast desktops, laptops, and peripherals announces the launch of three new ultra-performance laptops powered by NVIDIA's stunning Pascal architecture - the GeForce GTX 10 Series. By utilizing the improved efficiency and extreme power of NVIDIA's new GPU, Velocity Micro has improved upon its already award winning lineup to create a set of laptops with performance that rivals its benchmark-crushing desktops. GPU options range from the GeForce GTX 1060 up to 2 x GTX 1080 in SLI, with prices starting at $2,399.

"By adding NVIDIA's 10 Series GPUs to our line of laptops, we've created something really jaw-dropping," said Randy Copeland, President and CEO of Velocity Micro. "Not only are they great for gamers, but media creators, CAD designers, and other 3D artists will really see the benefit of this increased graphics performance too. Gone are the days when choosing a mobile platform meant sacrificing on hardware power."

Powered by 6th Gen Intel® Core® desktop processors like the i7-6700k and customization options which include the GeForce GTX 1060 and GTX 1070, the Signature 15 is the undisputed powerhouse of the 15.6" platform. Additional upgrade options include 32 or 64GB of DDR4 RAM and Samsung 950 Pro NVMe SSD drives. Configurations start at $2399.

For users in need of more screen space to handle their gaming and media creations, the Signature 17 offers Intel desktop processors and the NVIDIA GeForce GTX 1070 and GTX 1080 alongside a 17.3" display. Configurations start at $2699.

For the ultimate in GPU performance, look no further than the ProMagix™ M17SLI. Ideal for extreme gaming and advanced digital media, the M17SLI can be configured with up to a stunning 2 x GTX 1080, Intel Core i7-6700k, 64GB of DDR4, NVMe SSDs, and so much more, putting it spec for spec alongside the world's fastest desktops. Configurations start at $2999.

All Velocity Micro laptops and desktops are covered by never-outsourced lifetime US-based phone support. To custom configure the Signature 17, Signature 15, or ProMagix M17SLI by Velocity Micro or any other award winning desktop or workstation, visit VelocityMicro.com or call 888-300-4450.


About Velocity Micro
Velocity Micro is the premier high-performance personal computer provider in North America. Founded in 1992, Richmond, Va.-based Velocity Micro custom builds award winning gaming, mobile, multimedia, small business, workstation, visual supercomputers and peripherals. Velocity Micro products are currently available in retail from Newegg.com and Amazon.com. For more information, please call (888) 300-4450 or visit www.VelocityMicro.com.

Velocity Micro has earned over 75 industry awards, including 18 PC Magazine Editor's Choice awards. CNET, Maximum PC, Mobile PC, PC World, Computer Gaming World, Computer Shopper, and PC Gamer editors have all chosen Velocity Micro systems as some of the industry's best-performing, highest-quality, and most reliable PCs.
Media Contact:
Josh Covington
804.419.0908
jcovington@velocitymicro.com