Velocity Micro Announces the Immediate Availability of 4th Generation Intel® Core® Processors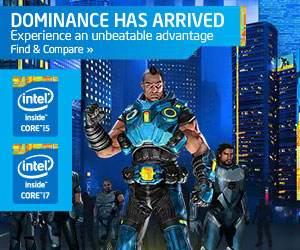 Processors available on select systems in Enthusiast line with configurations starting at just $1524
Richmond, VA — June 2, 2013 — Velocity Micro®, the premier builder of award winning enthusiast desktops, laptops, and peripherals announces the immediate availability of expertly crafted systems powered by 4th Generation Intel Core Processors. Formerly code-named "Haswell," Intel's latest generation of processors provide better performance, increased efficiency, and improved on-board graphics, making them a perfect fit for Velocity Micro's enthusiast customer base. Custom built, made in the USA 4th Generation Intel Core processor systems from Velocity Micro start at just $1524.
"Because we make some of the most reliable, well-built desktops in the world, our customers expect nothing but the very latest hardware," said Randy Copeland, President and CEO of Velocity Micro. "Intel has been the leader in processor technology for years now and we're honored to be able to offer these new CPUs to our customers on launch day to satisfy their craving for the best of the best available."
By pairing the increased performance and additional features of 4th Generation Intel Core processors with meticulous hand craftsmanship and obsessive quality control, Velocity Micro has created a desktop that is not only quiet and reliable, but also capable of setting record benchmarks. Improved on board graphics allow home and office users to configure a powerful and affordable PC that doesn't require discrete graphics to edit video, game casually, or perform other basic tasks. Additionally, the improved efficiency of the new Intel chip will allow the boutique PC maker to develop gaming notebooks long on both muscle and battery life, to be available in the coming weeks.
"For over a decade now, Velocity Micro has been a key partner, alongside us with every product launch since the Core 2 Duo," said Brent McCray, Worldwide Enthusiast Marketing Manager of Intel. "We're thrilled to be working with them on the launch of our 4th Gen Core Processors and very much look forward to more great things ahead."
All Velocity Micro desktops are hand built and supported in the USA. To custom configure an award-winning desktop featuring a 4th Gen Intel Core Processor, visit VelocityMicro.com.
About Velocity Micro, Inc.
Velocity Micro, Inc. is the premier high-performance personal computer provider in North America. Founded in 1992, Richmond, Va.-based Velocity Micro custom builds award winning gaming, mobile, multimedia, small business, workstation, visual supercomputers and peripherals. Velocity Micro products are currently available at most consumer electronics retailers nationwide. For more information, please call (800) 303-7866 or visit www.VelocityMicro.com
Velocity Micro has earned over 60 industry awards, including 17 PC Magazine Editor's Choice awards. CNET, Maximum PC, Mobile PC, PC World, Computer Gaming World, Computer Shopper, and PC Gamer editors have all chosen Velocity Micro systems as some of the industry's best-performing, highest-quality, and most reliable PCs.
Media Contact:
Josh Covington
804.897.6166 x211
jcovington@velocitymicro.com