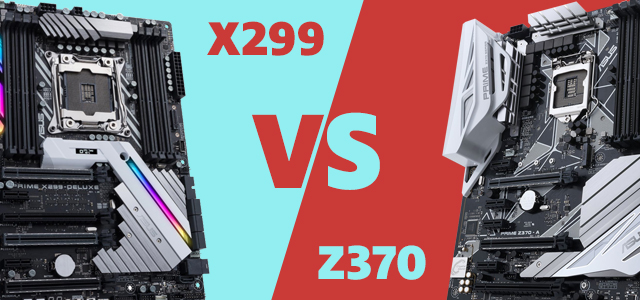 Intel currently offers two different chipsets targeting enthusiasts – X299 and Z370. If you're in the market for a new custom PC based on Intel's platforms, whether it be a DIY build or prebuilt system like one of ours, one of the first decisions to make is which of those chipsets is right for you. Read on to learn more about X299 vs Z370.
Socket/Supported Processors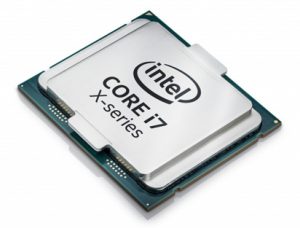 The primary difference when comparing X299 vs Z370 is the socket and the processors they support. X299 uses the LGA 2066 socket which supports Intel's Core X Series processors (previously known as Skylake-X and Kaby Lake-X). Intel Core X processors range from 4 to 18 cores (36 total threads!) and are really designed for multithreaded applications or extreme multitasking. Z370 on the other hand, supports 8th Gen Intel Core processors (formerly Coffee Lake), which are currently limited to 6 cores/12 threads. Along with the additional cores, the two processor families also have the following feature differences:
Onboard graphics – X299's Core X Series has no onboard graphics capability, while Z370 processors have Intel UHD 630 graphics built in (though we do still recommend a discrete GPU for overall performance).
TDP – Standing for Thermal Design Power, TDP is the average wattage a processor dissipates at load. Z370 processors have a 95W TDP, while X299 processors up to 165W.
PCIe lanes – Top of the line X299 processors support up to 44 lanes, meaning more bandwidth for dual graphics cards or other PCIe add ins. Z370 processors max at 16 lanes.
Upgradeability
Both chipsets and sockets are relatively new as far as Intel's product cycle goes (X299 launched Q2 2017, Z370 Q4 2017), so I wouldn't anticipate either becoming obsolete any time soon. But because of the number of processors that X299 supports and PCIe lanes available, I give it the edge in terms of upgradability.
Memory capacity and support
Both chipsets support DDR4 RAM at speeds of 3000MHz+ (though we don't necessarily recommend that), but Z370 maxes out at 64GB while X299 supports up to 128GB. For most users, 64GB is more than enough RAM, but if your applications are very RAM intensive, X299 may be the best choice.
I/O support
Though X299 and Z370 both support a very similar set of I/O as you can see by the chart below, X299 boards are generally more feature-rich and will typically offer a few additional USB ports.
| | | |
| --- | --- | --- |
| | X299 | Z370 |
| # of USB Ports | 14 | 14 |
| USB Revision | 3.0/2.0 | 3.0/2.0 |
| USB 3.0 | Up to 10 | Up to 10 |
| USB 2.0 | Up to 14 | Up to 14 |
| Max # of SATA 6.0 Gb/s Ports | 8 | 6 |
X299 vs Z370 – So what's best for me?
The final verdict really depends on how you use your PC. For pure gaming which does not utilize X299's multi-core advantage, Z370 offers the best value, no question. But if future proofing is a concern of yours, if you're tackling more intensive multithreaded workstation applications, or if you're a heavy multitasker, X299 is the way to go.
Still confused? Give our sales team a call for a personalized recommendation based on your needs at 804-419-0900 x1
The following two tabs change content below.
Josh Covington
Josh has been with Velocity Micro since 2007 in various Marketing, PR, and Sales related roles. As the Director of Sales & Marketing, he is responsible for all Direct and Retail sales as well as Marketing activities. He enjoys Seinfeld reruns, the Atlanta Braves, and Beatles songs written by John, Paul, or George. Sorry, Ringo.
Latest posts by Josh Covington (see all)