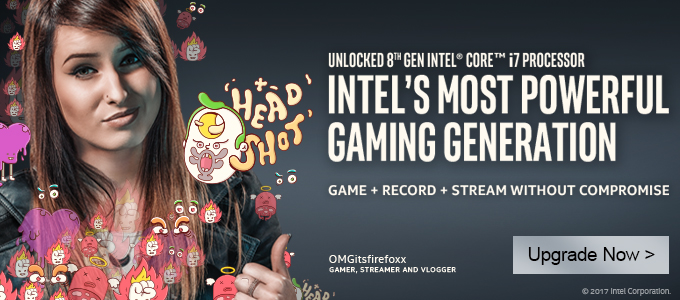 Today we're excited to be a part of another major Intel launch – the release of 8th Gen Intel Core Processors, formerly known as Coffee Lake. Featuring 6 cores, up to 12 threads, and up to 4.7 GHz of speed, 8th Gen Processors are designed to produce remarkable experiences in gaming, VR, and entertainment, allowing for gaming, recording, streaming, and more all at once. If you've been waiting for just the right time to upgrade, you may have found it. Read on to learn more about this incredible new family of processors.
8th Gen Intel Core Models and Specs
At launch, Intel has released the following six 8th Gen skus:
i7-8700k – 6 cores, 12 threads @ 3.7 GHz (4.7 GHz Turbo), 12MB Cache, 95W TDP
i7-8700 – 6 cores, 12 threads @ 3.2 GHz (4.6 GHz Turbo), 12MB Cache, 65W TDP
i5-8600k – 6 cores, 6 threads @ 3.6 GHz (4.3 GHz Turbo), 9MB Cache, 95W TDP
i5-8400 – 6 cores, 6 threads @ 2.8 GHz (4.0 GHz Turbo), 9MB Cache, 65W TDP
i3-8350k – 4 cores, 4 threads @ 4.0 GHz, 8MB Cache, 91W TDP
i3-8100 – 4 cores, 4 threads @ 3.6 GHz, 6MB Cache, 65W TDP
8th Gen Intel Core Key Features
Rather than add any significant new features, Intel has optimized some of the 7th Gen family's features in addition to adding the cores as outlined above. They're still impressive though, so I think it's important to at least outline them.
Intel Turbo Boost Technology 2.0 – Increases the processor's frequency, as needed, by taking advantage of thermal and power headroom when operating below specified limits. Think of this like an auto-overclock, only kicking in when you need it.
Intel Hyper-Threading Technology – Delivers two processing threads per physical core. Highly threaded applications can get more work done in parallel, completing tasks sooner. Available on i7 skus only.
Intel Smart Cache – Dynamically allocates shared cache to each processor core, based on workload, reducing latency and improving performance.
Integrated Memory Controller – Offers stunning memory read/write performance through efficient prefetching algorithms, lower latency, and higher memory bandwidth. One of the reasons that GHz speed doesn't tell the whole story regarding performance.
Intel UHD Graphics – Play 4K UHD videos with exceptional clarity, view and edit even the smallest details of photos, and play today's modern games. Intel Quick Sync Video delivers excellent video conferencing capability, fast video conversion, online sharing, and fast video editing and authoring.
Who Benefits?
So who will see the benefits of these new performance boosts? Admittedly, not everyone. For casual home office users who mainly utilize their PC for email and web surfing, a six core processor will mainly go to waste. But for enthusiasts, gamers, streamers, and multi-taskers, adding 50% more cores without sacrificing speed provides a significant advantage. Confused on whether the upgrade is right for you? Give our sales team a call at 804-419-0900 for a personal consultation.
Ready to upgrade? Configure our Z55, now powered by Coffee Lake processors.
The following two tabs change content below.
Josh Covington
Josh has been with Velocity Micro since 2007 in various Marketing, PR, and Sales related roles. As the Director of Sales & Marketing, he is responsible for all Direct and Retail sales as well as Marketing activities. He enjoys Seinfeld reruns, the Atlanta Braves, and Beatles songs written by John, Paul, or George. Sorry, Ringo.
Latest posts by Josh Covington (see all)