With the release of their 8th Gen Core processors (also known as Coffee Lake), Intel has many PC users wondering if now might finally be the time to upgrade their older desktop. Though the performance advantages may make it clear cut for owners of older PCs, what about power users with more recent hardware? How closely do Coffee Lake (e.g. i7-8700k, i7-8700, i5-8600k etc) vs Kaby Lake (i7-7700km i7-7700, i5-7600k etc) compare? Read on for a breakdown of the key improvements which Coffee Lake have brought vs. Kaby Lake.
Coffee Lake vs Kaby Lake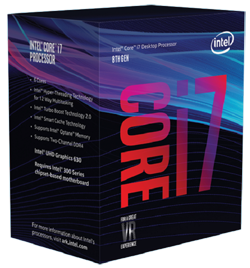 Both Coffee Lake and Kaby Lake utilize the same LGA 1151 socket and are built using the same 14nm micro architecture. Additionally, both processor families have Hyperthreading and the same basic set of features. But a drill-down into the specs does highlight the following key differences:
More Cores – The biggest improvement that Coffee Lake has made vs. Kaby Lake is going from four standard cores (eight threads) to six cores (twelve threads). These additional cores help with more complex, multithreaded work as well as providing improved performance when multitasking. Streamers for example, can now more easily power their stream, play their games, and record their session without getting bogged down.
Lower Frequency – Wait, so Coffee Lake i7's actually run slower than Kaby Lake? At stock speeds yes. Generally, a higher core count has always resulted in at least slightly slower speeds. This means that though multithreaded applications will perform much better on the newer gen, the gap with single threaded apps (like most games) will be much smaller. Smaller but not non-existent because of…
Higher Turbo speeds – Several generations ago, Intel introduced a sort of auto-overclocking feature called Turbo Boost which essentially allows one core to automatically run at higher than stock speeds for a short period of time when a boost is needed. Though Coffee Lake i7 does have lower standard frequency, Turbo speeds are higher to help add additional muscle to those single threaded applications.
Native support of DDR4-2666 – Kaby Lake processors would run 2666MHz RAM of course, but because it wasn't native, could result in system instability. Coffee Lake runs the faster RAM without those potential issues.
Conclusion
So given that information, is an upgrade from Kaby Lake to Coffee Lake worth the investment? Really, that depends on what you use your PC for. Most casual users and gamers for example who may not even be utilizing their current four cores likely wouldn't see much in the way of performance improvements. For heavy users and multi-taskers like the streamers we mentioned earlier, on the other hand, who can utilize Coffee Lake's 6 cores/12 threads, the upgrade may be well worth it.
Configure your Coffee Lake powered Raptor Z55 desktop now.
The following two tabs change content below.
Josh Covington
Josh has been with Velocity Micro since 2007 in various Marketing, PR, and Sales related roles. As the Director of Sales & Marketing, he is responsible for all Direct and Retail sales as well as Marketing activities. He enjoys Seinfeld reruns, the Atlanta Braves, and Beatles songs written by John, Paul, or George. Sorry, Ringo.
Latest posts by Josh Covington (see all)