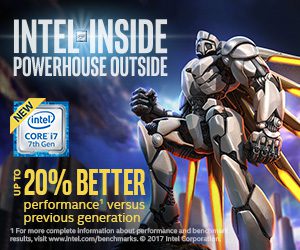 Earlier this month, Intel released its 7th Generation Core Processor (time flies doesn't it?) aka Kaby Lake. There's already been a ton of press coverage on the new chip's performance, but from an end user's perspective, what are the real world advantages of Kaby Lake vs. Skylake, its predecessor?
Background
Since the first Core processors, Intel has followed what they call a "Tick-Tock" engineering model. The "Tick" is a new shrinking of the chip's microarchitecture (usually referred to in nanometers) with the following "Tock" being refinement and improvement of that new architecture. With this model, every second generation brings a pretty significant refresh. With Kaby Lake though, Intel appears to have abandoned the Tick-Tock model (at least for now), and instead refined the 14nm architecture a second time. But does that mean fewer improvements over previous gens? Read on to find out.
Faster Clock Speeds
First and foremost, Kaby Lake improved stock clock speeds across the board an average of 200-300 MHz. While that's not a ton, you're still talking about around 10% faster performance at the same price. A faster CPU means an overall faster PC, especially with higher demand tasks.
Improved on board graphics
Kaby Lake's improved GPU clock speeds and hardware HEVC encoding translate into on board graphics (meaning no video card) that are capable of playing back 4K video, something that required massive hardware power just a few years ago. Sure, this doesn't apply to power users with discrete graphics, but casual home office users may find it useful.
Improved Speed Shift and Higher Turbo Speeds
One of the coolest features of past revisions was Turbo Mode, essentially an auto overclock that boosts CPU performance when necessary. Kaby Lake has not only bumped these Turbo speeds up to go along with their stock speeds, but they've also improved Speed Shift, making the transition from stock to Turbo even quicker.
Support for 200 series chipset motherboards
Along with Kaby Lake has come support for 200 Series motherboards like the Z270 and H270. These new boards offer several new features like more PCIe lanes, more USB ports, and support for faster RAM. We'll detail these new features and break down each chipset in a later post.
Ready to upgrade your PC to a new Kaby Lake powered desktop? Check out our full list of offerings right here.
The following two tabs change content below.
Josh Covington
Josh has been with Velocity Micro since 2007 in various Marketing, PR, and Sales related roles. As the Director of Sales & Marketing, he is responsible for all Direct and Retail sales as well as Marketing activities. He enjoys Seinfeld reruns, the Atlanta Braves, and Beatles songs written by John, Paul, or George. Sorry, Ringo.
Latest posts by Josh Covington (see all)