By now you may have heard – a new generation of Intel processors is on the way. You'll see these referred to as Basin Falls, X299, Core i9, Skylake-X, or Kaby Lake-X but in short, they're all different ways of talking about Core X-Series. But what does this mean for your next custom gaming or workstation PC build exactly? Should you wait for these new processors before buying your next PC? We'll break down everything we know (or at least as much as we can reveal) in the following post.
The new Core X-Series chipset – X299/Basin Falls
First, let's talk about the new chipset – X299 aka Basin Falls. We generally don't like fill these posts with too much technical jargon, but to summarize, X299 will provide:
Faster throughput because of DMI 3.0
Better I/O with up to 24 PCIe 3.0 lanes, 8 SATA 3.0 ports, and 10 USB 3.0
Support for Skylake-X and Kaby Lake-X processors with extreme overclocking capability
Also, one important thing to note – X299 boards and their corresponding processors will use a new CPU socket, so older gen processors won't work on new boards and vice versa.
A full breakdown of X299's features and benefits can be found HERE.
The Processor Lineup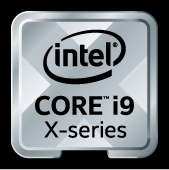 Central to this launch are Intel's lineup of new processors. At the entry level are two quad core options codenamed Kaby Lake-X, which use a different microarchitecture over the remaining lineup. Essentially, these options offer similar performance to current Kaby Lake processors, but with the advantages of the X299 chipset.
It's with the 6-core+ options that things get more interesting.
Dubbed Skylake-X, this lineup includes 6, 8, 10, 12, 14, 16, and 18 (yes, you read that right) core options, all of which boast Hyperthreading. And to go along with that extra muscle, Intel is using the long awaited Core i9 brand on those skus 10 cores and up.
The Performance Advantages
Due to embargo limitations, we can't discuss further specs and pricing, but suffice it to say, the performance of the highest end 18-core i9 will blow away anything currently available in multithreaded benchmarks. On the mid and lower end, faster core speeds and more efficient management of RAM and other hardware resources mean better overall responsiveness there as well. Other performance improvements related to the new architecture include:
Faster, improved cache hierarchy
Improved Turbo Boost Max 3.0
So Time to Upgrade?
The answer to that question depends on your situation and specific use case. If you're currently using a 5th or 6th gen processor without any slowdowns or hang ups, it's likely not worth the investment for you just yet. But, if you've been sitting on an older PC and waiting for the right time to pounce, this definitely could be it, especially if your applications take advantages of the almost endless cores/threads of the Skylake-X options. More will be revealed as we get closer to launch which will help you decide, but at the very least, it's worth paying attention to.
The following two tabs change content below.
Josh Covington
Josh has been with Velocity Micro since 2007 in various Marketing, PR, and Sales related roles. As the Director of Sales & Marketing, he is responsible for all Direct and Retail sales as well as Marketing activities. He enjoys Seinfeld reruns, the Atlanta Braves, and Beatles songs written by John, Paul, or George. Sorry, Ringo.
Latest posts by Josh Covington (see all)