Windows® 7 Upgrade Offer
Customers who purchase a qualifying Windows Vista-based PC after June 26, 2009 can request an upgrade to Windows® 7 until December 31, 2009. Here's how it works:
Buy a Velocity Micro PC running Windows® Vista after June 26, 2009
An Upgrade Option Coupon will be in the box with your new PC containing
instructions on how to claim your Windows® 7 Upgrade
Send an email to Windowsupgrade@velocitymicro.com with the information requested
on your coupon by December 31, 2009
We will contact you directly with the information you need to upgrade
Take home your free Windows 7 upgrade with the new Edge Z30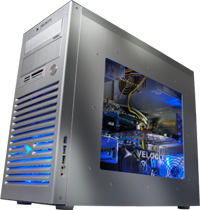 Built with the ideals of extreme performance at a real world price, the Edge Z30 brings Intel® Core™ i7 power to our classic small form factor case. Game at the highest resolutions and tear through digital media with bleeding edge technology at an extremely attainable price.
- Intel Core i5-750 Processor
- 4096 MB DDR3-1333 Memory
- NVIDIA® 9800GT Graphics
- Meticulous Craftsmanship
- 100% US based support

$1129
or call us at 1-800-303-7866


Purchased your Velocity Micro PC from a retail outlet after June 26, 2009? Click here for information on your upgrade.