There's only one word that truly describes how we feel about the PC – Passionate. Never before has that passion been so evident as with our new 100% aluminum mATX MX3 chassis. Over six months of development, we've obsessed over every detail in the MX3 to ensure that it's something to behold, something that conveys how passionate we are about our products, this industry, and our customers. Learn more below about the fruits of these labors, the stunning new MX3 from Velocity Micro. Whether you're looking for a gaming PC, a workstation, or just a powerful home office PC, the MX3 is the place to start. A PC Magazine Editors' Choice winner!

Get Yours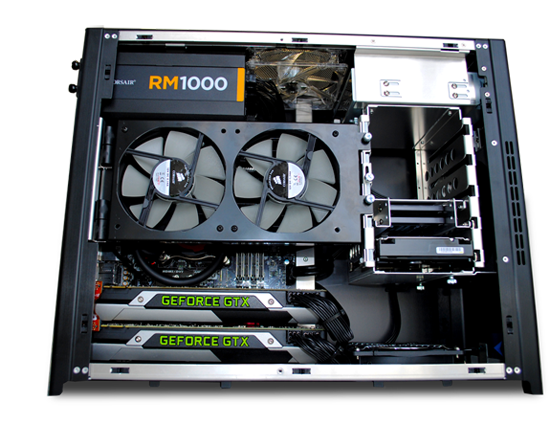 No Limits
The MX3 chassis is a mATX design without the limitations often seen in that form factor. Able to handle two of the largest graphics cards on the market like the NVIDIA GeForce GTX 980Ti with ease and supporting extremely powerful PSUs, the MX3 is something truly innovative and vastly powerful.


Superior Cooling
We designed the MX3 to dissipate heat better than any mATX chassis on the market through the following methods, all resulting in a cooler, more stable PC:
A unique vertical push/pull system sucks air through the bottom of the case, across vital components, and then out through the top fan (in standard configurations). It's letting hot air do what it's always done – rise upwards.
The aluminum chassis works as a giant heat sink, to pull warm air away from your components rather than trapping it like steel or plastic cases do.
An optional 240mm liquid cooling solution pushes CPU heat from a side mounted radiator, allowing for extreme overclocking and better processor longevity.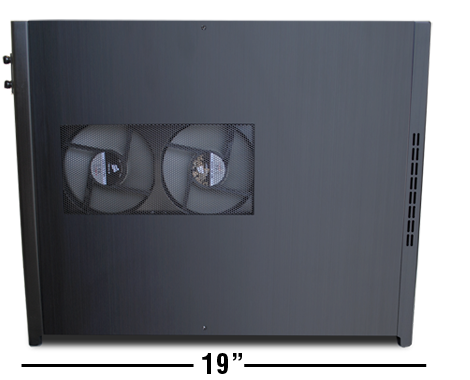 Innovative Design
Just because it's small, doesn't mean there isn't room for loads of storage. Able to hold up to SIX hard drives, the MX3 is in a class by itself.
Quick release, hot swappable hard drive cage makes upgrades simple and toolless.
Maximum, Simple Connectivity. With top mounted dual USB 3.0 ports along with microphone and headphone jacks, connectivity of your favorite peripheral devices just got easier.


Sleek Aesthetic
We intended the MX3 to be sleek and modern, with an aesthetic that fits in any office, dorm, or living room. The solid front panel, clean straight lines, and understated lighting is a welcome change to the flashy and garish designs of the performance PC industry.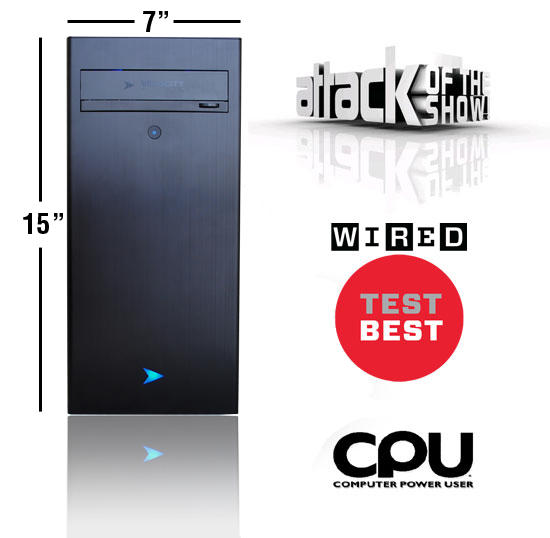 This is a PC you'll be proud to show off.
Compact Size
Not only did we design the MX3 chassis to be pleasing to the eye, we also created it to fit virtually anywhere. Gone are the days when an ultra-performance PC had to be too cumbersome to move or too large to fit on a desk. At just 15" x 19" x 7", the MX3 is as compact as it is stylish without sacrificing one drop of muscle.
A Legacy of Excellence
Since our first review in 2002, no PC manufacturer has won more awards from the press than has Velocity Micro. Featured in CNET, PC Magazine, PC Gamer, Maximum PC and many more, Velocity Micro PCs continue to be lauded by reviewers and customers alike for its performance, build quality, and stunning design. Read our latest review!

"The best computer company I have dealt with ever." -Ross D.
"hands down the best PC I have ever owned."- Bill B.
"BEST PC I HAVE PURCHASED TO DATE." – Fernando C.

Read Reviews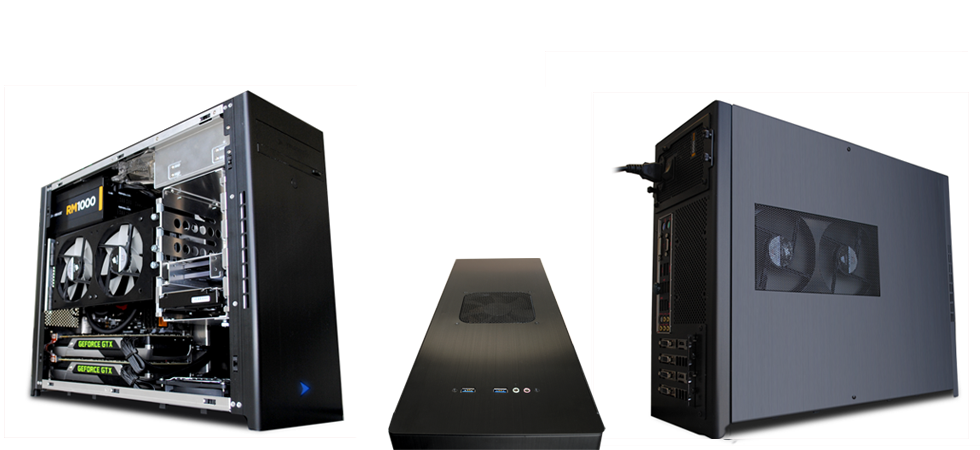 | | | |
| --- | --- | --- |
| Raptor Z55 | Raptor Z40 | ProMagix HD60 |
| Made famous by tournament gamers the world over, the Raptor™ Z55 is the perfect blend of ultra-performance hardware, expert engineering, and remarkable value. Designed and refined to be as close to midrange perfection as possible, this PC crushes benchmarks without crushing wallets. It's the true embodiment of our New PC Experience. And the epitome of our ongoing quest to create a flawless PC. Our latest award winner! | Designed for lighter gaming, media editing and creation, and enthusiast activities, the lean and mean Raptor™ Z40 is a head-turner. By combining the very latest bleeding edge components with our trademarked care and craftsmanship, we've created a PC that surpasses even our own extreme standards. A perennial award-winner for a reason. Truly remarkable. | Designed to be the most powerful entry-level workstation available, the HD60 is great for video editing, 3D modeling, and CAD work on a budget. We use only the very best professional grade parts like Xeon processors and NVIDA Quadro graphics for superior performance, reliability, and longevity |
| Starting at $1,599 | Starting at $1,099 | Starting at $1,399 |
| | | |