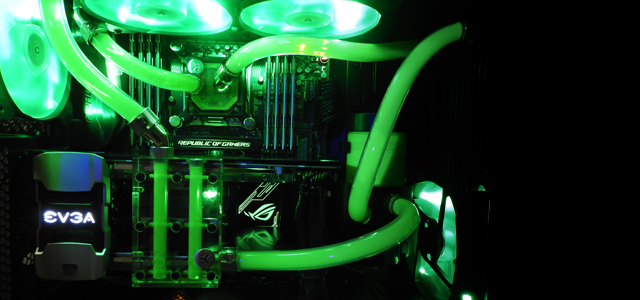 If you are building a custom PC or upgrading the cooling on an older system you have several options when it comes to cooling.
While air coolers are the most popular type of CPU and GPU coolers due to simplicity and price, liquid cooling is extremely popular in the high-end PC market. There are several advantages to going with liquid cooling.
Advantages of Liquid Cooling:
Improved Temperatures When Overclocking
Improved System Stability
Improved System Acoustics at Load
System Aesthetics
Now let's look at the main types of liquid cooling systems you will find.
AIO Liquid Cooling (All in One)
AIO, or all in one liquid cooling systems are the most popular water cooling option today. They feature a radiator, pump, contact plate, tubing, and fan in one neat package.
AIO's are more expensive then air cooling, and typically take up more space in a PC case. However, they generally offer improved thermal performance (temperatures) and lower noise levels.
Standard AIO Fan/Radiator Configurations
120mm
140mm
2x120mm
3x120mm
All in One systems can range in price from around $50 to several hundred dollars depending on size, fans, and other features. Installation of these liquid cooling systems is often just as simple and straight forward as installing an air cooler.
While AIO's are build primarily for CPU cooling, there are now adapters (NZXT G12) compatible with many popular coolers that can allow you to use them with GPU's as well.
Custom Water Cooling Systems
Custom water cooling is typically reserved for high end PC's trying to get maximum performance from their selected components.
Custom cooling systems offer a high level of customization in both performance and aesthetics. Most systems will be built in larger towers to provide the proper amount of space to mount the various components associated with these systems.
While there are now some custom cooling kits that include most items you will need, many still opt to assemble the components themselves to create a unique system.
Standard Custom Water Cooling Components
Radiator(s)
Fans
Pump
Reservoir
Tubing
Coolant
Fittings
The relatively high prices, and installation difficulty often leads to all but the savviest consumers going with AIO, or air coolers.
If you want a PC with custom water cooling but don't want to do it yourself there are several manufactures that will handle the process for you.
The Z95 line offered here at Velocity Micro is a great example of what you can expect from a custom cooled pre built system.
The following two tabs change content below.
Charlie O'Donnell
Charlie has been a member of Velocity Micro's team since 2018. He has a love for both graphic design and PC gaming.
Latest posts by Charlie O'Donnell (see all)