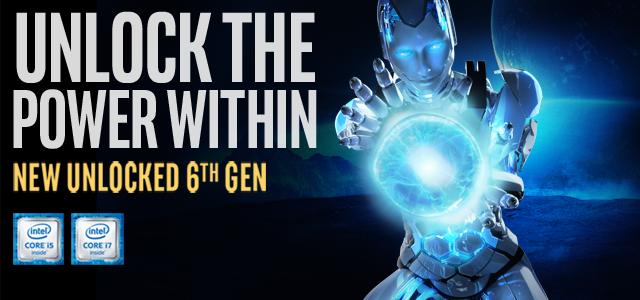 Today, Intel announced the immediate availability of the unlocked version of their 6th Gen Core processors, formerly codenamed Skylake. Now known as the Core i7-6700k and Core i5-6600k, these new CPUs are a new architecture based on the 14 nm die shrink introduced recently with the 5th Gen Intel Core processors (aka Broadwell). But what does that mean from a performance and features standpoint and how will these new processors benefit your gaming and enthusiast/workstation applications? Here are the top performance improvements and new features to be found in Intel's new Skylake processors:
Better performance with less power
With each new architecture, Intel processors typically produce additional processing performance because of Inter Process Communication (IPC) improvements, essentially improvements to how the CPU talks to the remaining PC components. With Skylake, this performance increase equates to an 11% overall improvement over previous generation CPUs. Not only that, but Skylake processors bring that extra sauce using 22% less power (65W vs 84W) than ever before. In summary, if you're looking for the highest performing quad core processors available, it's the new Skylake Intel Core i7-6700k.
Full support for DDR4
Intel rolled out support for DDR4 Memory to Hexa and Octo core processors which utilize the LGA 2011 socket last year. Now, DDR4 comes to quad core Skylake, a boon to heavy multitaskers, enthusiasts, media creators, and hard core gamers.
USB 3.1 Type C and Thunderbolt 3
We've discussed USB 3.1 and the speed benefits that it offers in previous posts. Now, Intel CPUs fully support the new Type C port as well as Thunderbolt 3 for even more speed, power, and convenience.
Wireless support
Wireless is the way of the future. With the new i7-6700k and i5-6600k, Intel processors make going wireless even easier by supporting WiGig for wireless docking and Intel WiDi 6.0 for wireless video up to 4K in resolution.
Integrated Graphics
Intel's 5th Gen Processors, aka Broadwell, introduced their newest integrated graphics knows as Iris Pro. With the integrated graphics of 6th Gen CPUs, you'll see a reported 28% graphic performance bump, which even rivals some low/mid-range discrete GPUs.
Bonus! – Designed for Windows 10
Intel's Skylake processors were specifically designed to work hand in glove with Microsoft's Windows 10. That means less waiting, better multitasking, improved biometric security, more responsiveness, better power management, faster wake, smoother 4K playback, and full support of DX12. What's not to like?
6th Gen Intel Core (Skylake) processors are now available on our Raptor Z55 and Promagix HD60. Configure yours now!
The following two tabs change content below.
Josh Covington
Josh has been with Velocity Micro since 2007 in various Marketing, PR, and Sales related roles. As the Director of Sales & Marketing, he is responsible for all Direct and Retail sales as well as Marketing activities. He enjoys Seinfeld reruns, the Atlanta Braves, and Beatles songs written by John, Paul, or George. Sorry, Ringo.
Latest posts by Josh Covington (see all)