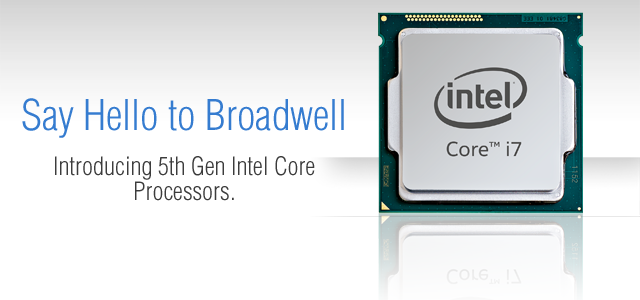 Today we're excited to announce the immediate availability of 5th Gen Intel Core processors, formerly known in our world as Broadwell. The "Tick" phase of Intel's usual "Tick Tock" product release, Broadwell processors are Intel's first 65W 14nm die shrink of the Haswell architecture. Unlike previous Tick releases though, Broadwell does not completely replace its preceding architecture, but instead supplements it with two processors that are compatible with the current socket and chipset – the Core i7-5775C and i5-5675C.
What They Do Well
With stock core clock speeds of 3.3 GHz and 3.1GHz (3.7 and 3.6 Turbo), you may be a little underwhelmed with these new processors at first glance, especially when compared to the 4.0/4.4Ghz speeds of the i7-4790k. But fear not. In addition to the 5% Ghz for Ghz performance increase resulting from Inter Process Communication (IPC) improvements, Broadwell processors do two things extremely well: overclock and on-board graphics.
First, the overclocking. Despite the lack of the k moniker, the i7-5775 and i5-5675C are fully unlocked and ready for some extreme overclocking upwards of 25% or more. We're still testing ourselves but do plan on releasing the results of our overclocking test here on this blog another day, so stay tuned for that.
Next, the on-board graphics. Along with being Intel's first 14nm processor, the Broadwell CPUs are the first to use Intel's new Iris Pro 6200 on board graphics, which look to be an absolute monster. Our own benchmarks aren't quite ready for sharing just yet, but check out what Tom's Hardware has found in their tests. I mean, wow. That's enough juice to compete with any entry level discrete card and many of the mid-level options.
So What About Skylake?
The "Tock" release of Intel's new architecture, also known as Skylake, is set for later this year and promises another round of significant performance improvements. So the question becomes – upgrade to Broadwell now or sit tight and wait for Skylake? That really depends on your usage case and budget. If you're looking for something on the high end to handle a heavy workstation load or extreme gaming with multiple graphics cards, you're still better off with a 2011 socket Haswell-E with its 6+ cores and 40 PCI lanes rather than Skylake anyway. And if a basic home PC with enough integrated graphics to run basic games is what you're after, all signs point to Broadwell providing enough of a horsepower upgrade to warrant pulling the trigger now.
The Intel Core i7-5775C and i5-5675C are now available on our Raptor Z55 as well as Raptor Z40, Vector Z35, and Vector Z25. Get them now!
PS – For an incredibly detailed review of and complete details on the i7-5775C and i5-5675C, check out the coverage on Tom's Hardware.
The following two tabs change content below.
Josh Covington
Josh has been with Velocity Micro since 2007 in various Marketing, PR, and Sales related roles. As the Director of Sales & Marketing, he is responsible for all Direct and Retail sales as well as Marketing activities. He enjoys Seinfeld reruns, the Atlanta Braves, and Beatles songs written by John, Paul, or George. Sorry, Ringo.
Latest posts by Josh Covington (see all)