If you've been paying attention to the world of USB, you may have heard about USB 3.1/3.2 and USB Type-C. But what's the difference? Which one do you need? And how are they different from previous types like USB 3.0 or even 2.0? Let's break it down.
What is USB Type-C?
Over the years, the USB connection has taken on many forms. The rectangular port you're most familiar is called USB Type-A. The blocky, almost square port used in many large peripherals like printers is USB Type-B. Add micro and mini versions commonly used with phones/tablets of each of these into the fold and suddenly you've got a half dozen connection types and a recipe for confusion. Here's a chart:

But now Type-C is here to save the day. USB Type-C is a description of the port connection itself. It's the form factor – small, compact, and replaces the standard USB Type-A and B connections as well as the myriad of micro and mini USB ports. Basically, it's one USB connection type to rule them all. And best of all, it's reversible, so the days of flipping your USB cable three times before inserting it correctly may finally be numbered. Over the next few years, look for USB Type-C to begin becoming the universal port for all devices including desktop, laptop, and mobile. If you've purchased a new PC recently, you probably have at least one USB C port.
One thing to note, because announcements of Type-C connections have come hand in hand with USB 3.1/3.2, many people assume they're the same, or at the very least that all Type-C runs on the faster spec. This is not the case. Remember, Type-C is the connection type and may actually run on a lesser spec – USB 2.0 even – so don't assume you'll be getting all that 3.1 or 3.2 goodness just because you see that tiny reversible port.
What is USB 3.1?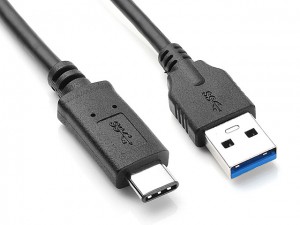 USB 3.1 (aka USB 3.1/gen 1 and USB 3.1/gen 2) is the successor to USB 3.0. Identifiable by its bright turquoise port, USB 3.1/gen 2 doubles the transfer speed of 3.0 to a whopping 10 Gbps. USB Power Delivery 2.0 makes a big step forward as well with up to 100W of power. And like previous versions of USB, it is fully backwards compatible with its predecessors.
When used with the Type-C connection, things get really interesting for 3.1. The 100W of PD v2.0 is enough to power and charge full sized notebooks, which means the proprietary AC port may soon be replaced by this universal alternative. With 4 data lanes, USB 3.1 Type-C can even carry DisplayPort and HDMI video signals, further adding to its ubiquity. Some Type C ports can even do dual duty as Thunderbolt 3 ports. Again, one port to rule them all.
What about USB 3.2?!
Following closely on the heels of USB 3.1 is USB 3.2 with even faster data transfers. To add to the confusion, this version comes in several types – Gen 1, Gen 2, Gen 2×2 which all have different specs. We'll go over USB 3.2 in detail in a future post dedicated to it only.
So what does this mean?
If you're shopping for a new desktop, laptop, or mobile device, you're probably seeing USB Type-C just about everywhere. It's now becoming a staple on most laptops and feature-rich desktop motherboards. Full integration is on the way, but will still take time. A change like this does not happen overnight, especially with all of the Type-A devices out there.
If you're ready to try out a USB 3.1 desktop, check out our Raptor Signature Edition, Z95, and Z55. If a laptop is what you're shopping for, our Raptor T15 are definitely worth checking out. As always, you can call us at 804-419-0900 for assistance.

Note: This post was originally published in 2015 and has been edited to include the latest information.
The following two tabs change content below.
Josh Covington
Josh has been with Velocity Micro since 2007 in various Marketing, PR, and Sales related roles. As the Director of Sales & Marketing, he is responsible for all Direct and Retail sales as well as Marketing activities. He enjoys Seinfeld reruns, the Atlanta Braves, and Beatles songs written by John, Paul, or George. Sorry, Ringo.
Latest posts by Josh Covington (see all)