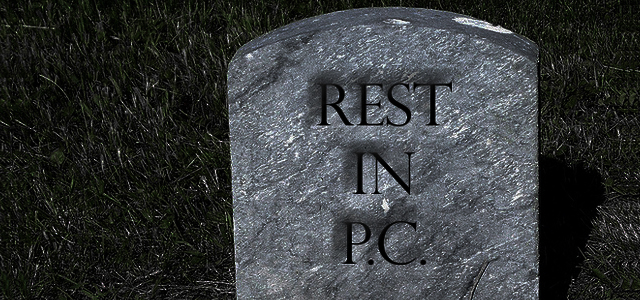 It seems like every year a new product comes along poised to put the desktop PC in its grave. In 2009, buoyed by 600% sales growth, it was the netbook. In 2010 and 2011, as Apple entered the market and EVERYONE followed, it was the tablet.  Ultrabooks, Chromebooks, PDAs, Smartphones, consoles, All-in-Ones — the list of the desktop's successors lengthy, and funny enough, often filled with products that themselves have gone the way of T-Rex. So in a market that's supposedly on death's door, why are our custom built gaming PCs, workstation PCs, and Home & Office PCs so popular?
Simple. The desktop PC is not going anywhere anytime soon. Here are a few reasons to buy one:
Serious gamers still use PC – Sorry consolers, but with the scalability and power potential that desktop PC hardware can offer, PC gaming is still in a class of its own. Just pull up a PC vs either PS4 or Xbox One comparison and you'll see what I mean. And don't even get me started on the gorgeousness that is 4K gaming.
A PC is your home's media hub – Those cloud based solutions are great, but most consumers still prefer to store their vacation pictures, home movies, and digitized music locally on a home PC for easier distribution to their home networked devices. It's just far more convenient than constantly uploading, downloading, and streaming your own content.
Versatility – Tablets are great for media consumption and surfing the web from the couch, but when it comes time for serious photo or video editing, multitasking, gaming, computation, or other intensive applications, nothing beats the versatility and usability of a PC. It's not a one trick pony, it's a workhorse.
Value PCs offer – Spec out a mid-range desktop alongside a comparable laptop or Ultrabook, and the value of the desktop becomes crystal clear. Not only do you get more for the money at the time of purchase, but the longevity and upgradeability of the desktop makes it a great option where mobility is not a necessity.
The following two tabs change content below.
Josh Covington
Josh has been with Velocity Micro since 2007 in various Marketing, PR, and Sales related roles. As the Director of Sales & Marketing, he is responsible for all Direct and Retail sales as well as Marketing activities. He enjoys Seinfeld reruns, the Atlanta Braves, and Beatles songs written by John, Paul, or George. Sorry, Ringo.
Latest posts by Josh Covington (see all)