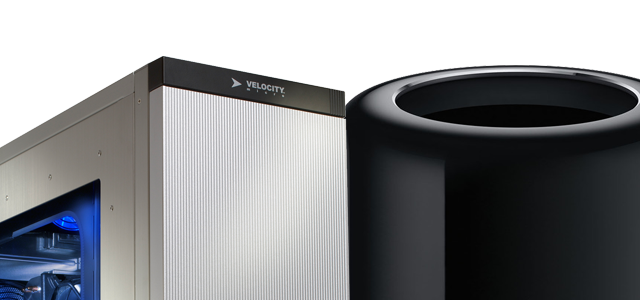 Pepsi or Coke. Edison or Tesla. Batman or Superman. The world is full of great rivalries and but none is greater in our modern age than Mac or PC. When we redesigned our ProMagix HD80, we did so knowing it would be compared directly to the Mac Pro and that swaying those Apple loyalists from their brand of choice would be a hard sell. To compete, the ProMagix HD80 would need to be nothing short of stellar. And I have to say all biases aside, we did a pretty great job. Here are a few of the reasons to choose the ProMagix HD80 as your next ultra-performance workstation PC.
Support – Believe it or not, Macs, including the Mac Pro, come standard with only 90 days of complimentary phone support. Yes, just 90 days for free. Additional support packages can be purchased to extend that window, but why should you have to do that? We believe that phone support should be complimentary for the LIFETIME of all of our PCs, including the HD80. You will never be charged for phone support from Velocity Micro, something that Apple can't say.
Value – Simply put, spec for spec, the HD80 is a better value than the Mac Pro. Check out this comparison chart for two popular configurations. A similarly configured HD80 is close to 20% less expensive than the Mac Pro counterpart.
| | | | | |
| --- | --- | --- | --- | --- |
| | Mac Pro – Quad Core | ProMagix HD80 – Custom | Mac Pro – Hexa Core | ProMagix HD80 – Custom |
| Processor | 3.7 GHz Quad Core | 3.7 GHz Quad Core | 3.5 GHz 6-Core | 3.4/3.9GHz 6-Core |
| Memory | 16GB DDR3 | 16GB DDR3 | 32GB DDR3 | 32GB DDR3 |
| Storage | 256GB SSD | 256GB SSD | 512GB SSD | 512GB SSD |
| Graphics | Dual AMD FirePro D300 | AMD FirePro W5000 | Dual AMD FirePro D500 | AMD FirePro W7000 |
| Power Supply | 450Watt | 600Watt | 450W | 600Watt |
| Operating System | OS X Mavericks | Windows 7 Pro | OS X Mavericks | Windows 7 Pro |
| | | | | |
| Price | $2,999.00 | $2,474.00 | $4,699.00 | $3,794.00 |
Upgradeability – Apple made some bold design choices with the Mac Pro, opting for style over upgradeability. While the cylindrical design may turn some heads, it also guarantees almost exclusive use of proprietary components, virtually eliminating the upgradeability of the system and thus shortening its lifespan. Conversely, all Velocity Micro PCs are built using standard retail grade components and wired simply and neatly, meaning upgrades couldn't be easier. For customers that get a queasy feeling at the thought of tooling around inside their PC, we'll even do the upgrades for you. Have additional questions about the ProMagix HD80? Contact us!
The following two tabs change content below.
Josh Covington
Josh has been with Velocity Micro since 2007 in various Marketing, PR, and Sales related roles. As the Director of Sales & Marketing, he is responsible for all Direct and Retail sales as well as Marketing activities. He enjoys Seinfeld reruns, the Atlanta Braves, and Beatles songs written by John, Paul, or George. Sorry, Ringo.
Latest posts by Josh Covington (see all)