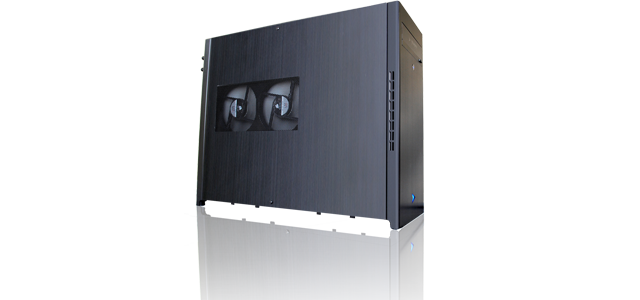 Today we've announced the culmination of six months of research and development – our new MX3 chassis.
Needless to say, we're a little excited.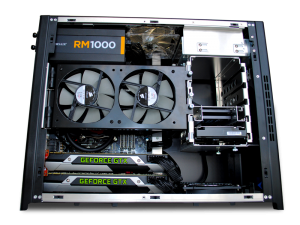 Simply put, the MX3 is one of the most impressive cases we've ever designed. By combining the compact footprint of a mATX form factor with the power capability of an ultra-performance PC, we've proven that you no longer need a big, bulky box to build a system capable of extreme gaming and media creation at even 4K resolutions. It's a big step forward for us and the industry as a whole.
The MX3 is as full of features as it is easy on the eyes. As close to mATX perfection and you can get.
Here are just a few of the reasons the MX3 is so remarkable:
Capable of handling any two extreme graphics cards in SLI or CrossFire – even the GTX 780 Ti
Up to 6 Hard Drives in a tool-less hard drive cage for quick and easy swapping
240mm radiator, closed loop liquid cool capable for extreme overclocking of Devil's Canyon unlocked CPUs
Superior cooling even on air – top and bottom fans pull air in and across vital components while dual side fans push warm air out
Dual USB 3.0 and audio ports on the top of the chassis for easy access no matter your desk orientation
Solid aluminum construction turns the case into a giant heat sink, pulling warm air away from vital components
Measures 15" H x 19" D x 7" W
It's been a long road to get here but the payoff is definitely worth it for our customers. To learn more about our newest creation, go here.
The following two tabs change content below.
Josh Covington
Josh has been with Velocity Micro since 2007 in various Marketing, PR, and Sales related roles. As the Director of Sales & Marketing, he is responsible for all Direct and Retail sales as well as Marketing activities. He enjoys Seinfeld reruns, the Atlanta Braves, and Beatles songs written by John, Paul, or George. Sorry, Ringo.
Latest posts by Josh Covington (see all)