Velocity Micro announces desktops powered by NVIDIA GeForce GTX 780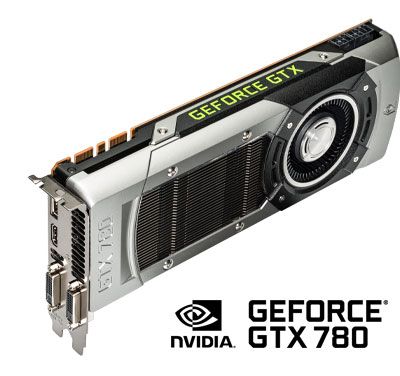 Gaming and Enthusiast configurations start at $2,249, available today
Richmond, VA — May 23, 2013 — Velocity Micro®, the premier builder of award winning enthusiast desktops, laptops, peripherals, and Cruz™ tablets announces the immediate availability of custom desktops powered by the NVIDIA® GeForce® GTX 780. With 2,304 total cores and 3GB of GDDR5 memory, this bleeding-edge card offers Velocity Micro customers not only extreme performance, but improved thermals and acoustics and acoustics as well. The GTX 780 will be available on the Edge™ Z55, Raptor™ Z90, Raptor Signature Edition, and Overdrive™ PC BigBlock.GTX starting at $2,249.
"Since our first Editors' Choice award in 2002, we've seen PC hardware come a long way. NVIDIA has always led the way in that innovation ," said Randy Copeland, President and CEO of Velocity Micro. "After spending a few days testing the GeForce GTX 780, all I can say is WOW – they've done it again. This is seriously fast hardware and a must have for enthusiasts."
The Kepler™-based GeForce GTX 780 is designed to be fast and powerful, pairing perfectly with the ultra-performance hardware and superior quality of a Velocity Micro desktop. Key selling features and enhancements of this innovative graphics card include:
2,304 total cores – 50% more than its predecessor
3GB of GDDR5 memory
NVIDIA GPU Boost 2.0 technology for greater customization and overclocking options
GeForce Experience™ for one-click driver and settings optimization
NVIDIA PhysX® and TXAA™ for smooth, sharp graphics
Improved thermals and acoustics to keep fan noise to a minimum
All Velocity Micro desktops are hand built and supported in the USA. To custom configure an award-winning desktop featuring a GeForce GTX 780 or any other home office, workstation, enthusiast, or gaming desktop, notebook, or All-in-one, visit VelocityMicro.com.
About Velocity Micro, Inc.
Velocity Micro, Inc. is the premier high-performance personal computer provider in North America. Founded in 1992, Richmond, Va.-based Velocity Micro custom builds award winning gaming, mobile, multimedia, small business, workstation, visual supercomputers and peripherals. Velocity Micro products are currently available at most consumer electronics retailers nationwide. For more information, please call (800) 303-7866 or visit www.VelocityMicro.com
Velocity Micro has earned over 60 industry awards, including 17 PC Magazine Editor's Choice awards. CNET, Maximum PC, Mobile PC, PC World, Computer Gaming World, Computer Shopper, and PC Gamer editors have all chosen Velocity Micro systems as some of the industry's best-performing, highest-quality, and most reliable PCs.
Media Contact:
Josh Covington
804.897.6166 x211
jcovington@velocitymicro.com