Prepare yourself for the upcoming Virtual Reality revolution with a custom gaming PC from Velocity Micro. Our line of VR-ready desktops were designed with the groundbreaking Oculus Rift in mind using our precision build process and 20-years of experience to give you the most remarkable, immersive VR experience possible.

Choose a PC
For the full Rift experience, Oculus recommends the following specs

| | |
| --- | --- |
| Video Card | NVIDIA GTX 1070 / AMD R9 290 equivalent or greater |
| CPU | Intel i5-6500 equivalent or greater |
| Memory | 8GB+ RAM |
| Video Output | Compatible HDMI 1.3 video output |
| USB Ports | 3x USB 3.0 ports plus 1x USB 2.0 port |
| OS | Windows 7 SP1 64 bit or newer |
What is Virtual Reality?
Virtual Reality, often called VR for short, is a three-dimensional computer simulation that the user is able to interact with using special equipment like gloves, masks, and helmets. Often seen as the Holy Grail of gaming, VR had always been better in concept than in actual practice until very recently. Now with the release of the Oculus Rift alongside several competing VR headsets, the concept of Virtual Reality is quickly becoming an actual reality.
Ultra-Performance PCs
To properly run a VR setup like the Oculus Rift, you need some relatively powerful PC gaming hardware. Fortunately, that's our specialty. For the optimal VR experience, customize one of our Ultra-Performance PCs to at least the minimum specs listed to the right. For assistance, our expert sales team is available to answer any questions you may have.

Meticulous Handcraftsmanship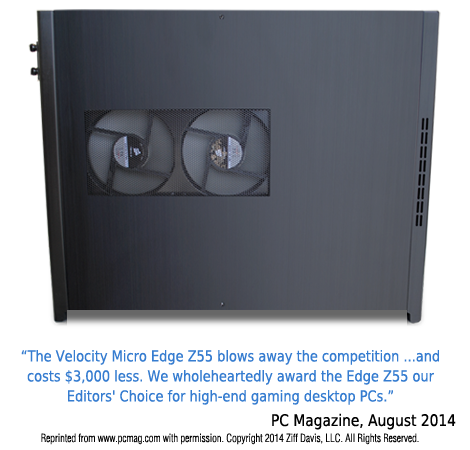 We're obsessed with perfection – there are no assembly lines here. As with all Velocity Micro PCs, each ProMagix™ HD80 is hand built by expert engineers, meaning every screw is turned by hand and each cable is clipped and tucked away with care. The end result is better airflow and thermal properties, translating into a more stable, longer lasting PC that's easier to service and upgrade.
A Legacy of Excellence
Since our first review in 2002, no PC manufacturer has won more awards from the press than has Velocity Micro. Featured in CNET, PC Magazine, PC Gamer, Maximum PC and many more, the HD80 continues to be lauded by reviewers and customers alike for its performance, build quality, and stunning design.

"The best computer company I have dealt with ever." -Ross D.
"hands down the best PC I have ever owned."- Bill B.
"BEST PC I HAVE PURCHASED TO DATE." – Fernando C.

Read Reviews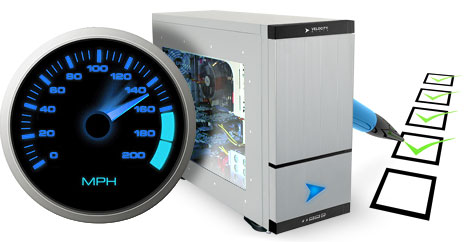 Quality Control
Before shipping, every PC endures a grueling set of tests and quality control measures that would bring most systems to their knees. Stress tests, extensive reboots, an overnight burn in, and an exhaustive 200-point QA checklist ensure that every ProMagix™ HD80 meets our own lofty standards.

Sure, it's more work. But no one ever said that creating something this remarkable would be easy...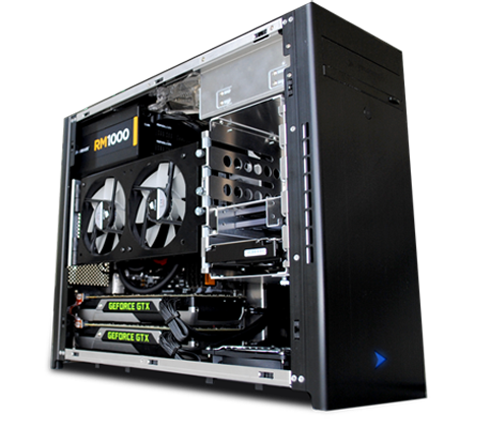 100% US-Based Tech Support
Every Velocity Micro PC comes with complimentary lifetime business hours phone support. And the best part – a call placed to our expert, non-tiered support team will never be routed anywhere offshore. Not ever. It's like having your own personal geek, just a phone call away.

It costs us more, but we refuse to let anything get in the way of an astonishing customer experience.
founded and Based in the USA
Each and every Velocity Micro PC is designed, tested, and ships from our Richmond, VA headquarters. We don't outsource. We don't cut corners.

We don't compromise. It's just that simple.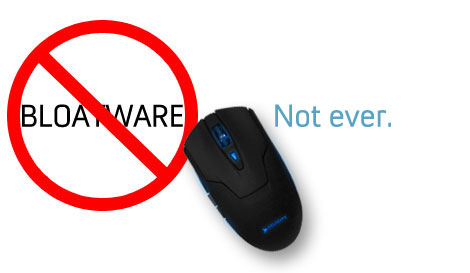 No Bloatware
If you've ever bought a computer from the behemoth, mass produced competition, you know bloatware. Free trials you don't want, software you didn't ask for, search bars you'll never use – all choking your system.

We don't do it, and we never will. With Velocity Micro, we only install what you ask us for, and not a thing more.
| | | |
| --- | --- | --- |
| | | |
| RAptor Z55 | Raptor Z40 | Raptor Z95 |
| Made famous by tournament gamers the world over, the Z55 is the perfect blend of ultra-performance hardware, expert engineering, and remarkable value to make it the perfect Oculus-ready PC | The small form factor desktop combines the very latest bleeding edge components with our trademarked care and craftsmanship to create a PC that surpasses even our own extreme standards. A perennial award-winner for a reason. | Meet your dream PC. Designed and assembled by master craftsmen, each custom assembled Raptor™ Z95 spends a full week being tuned, tested, and benchmarked for optimal cooling, performance, and longevity. The ultimate Oculus-ready PC. |
| Starting at $1,854 | Starting at $1,599 | Starting at $2,479 |
| | | |