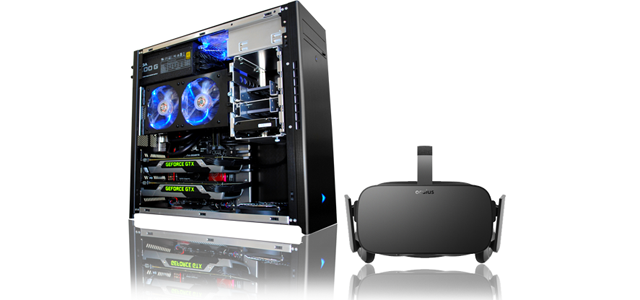 The hype has been building for quite a while now, but 2016 looks to finally be Virtual Reality's big breakout year. And if it is, what a game changer it could be. Read on to learn more about the technology as well as the hardware and software that are driving this revolution. If you're ready to jump in and configure a VR-ready PC, check out these options.
What is VR?
Virtual Reality, often called VR for short, is a three-dimensional computer simulation that the user is able to interact with using special equipment like gloves, masks, and helmets. Often seen as the Holy Grail of gaming, VR had always been better in concept (see Nintendo's 1995 Virtual Boy) than in actual practice, at least for the average consumer, until very recently. Now with the release of several promising VR headsets including the Oculus Rift as well as advancements in VR software and other technology, the concept of Virtual Reality is quickly looking more and more like an actual reality.
Choosing a VR headset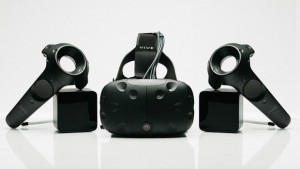 With the buzz created by Oculus' wildly successful Kickstarter and subsequent $2 Billion acquisition by Facebook, it seems like everyone is dipping their toes in this water by announcing a VR headset. Here are a few of the key players in VR hardware with releases pending for 2016:
Sony Playstation VR – Formerly known as Project Morpheus, Sony's PS4 VR peripheral is set to become available this summer. Unfortunately for you PC gamers out there, Sony's VR will not have cross platform support and will only be compatible with the PS4.
HTC Vive – Better known for its smartphones than gaming peripherals, HTC is now betting heavily on the VR market with their Vive. Developed with Valve, the Vive will supposedly work with Steam's ecosystem, opening up a world of potential gaming possibilities. Shipments begin in April.
Oculus Rift – The hype is real. Oculus has gotten the majority of the press coverage and with good reason. The Rift combines, form, function, and affordability better than any other competitor, and it is scheduled to begin shipping in March.
The Virtual Reality Gaming Revolution
So what does all of this mean for gaming? Well, quite a lot. With VR now entering the mainstream, developers have begun to focus their resources on creating games designed specifically for the platform, which means not just a whole new genre of PC gaming, but a new way for games to be played. Imagine instead of interacting with a keyboard and mouse, you're inserted into a virtual and interactive world without limitation. Instead of playing as a character in a First Person environment, you're inserted into that environment. And as full body tracking, haptic feedback, and eye tracking get better and better, the possibilities could be literally endless. That's the prospect that VR potentially brings.
And even more exciting, VR isn't limited to just gaming. Hollywood is expected to soon embrace the tech as well and develop movies specifically for the VR platform along with porting over older movies for a more VR like experience. Virtual offices could make working on a beach in Fiji from your home a reality. VR workouts could have you jogging across the Great Wall of China instead of staring at a treadmill screen.
Building a VR-ready PC
To properly power a headset like Rift or Vive, you'll need some powerful PC hardware. And of course, this is where we come in. To render the graphics of a 360 degree virtual world, you're going to need a powerful graphics card, most likely an NVIDIA GTX 970 at minimum. CPU power will be less important, but still a factor, with a quad core i5 needed at least. Full spec requirements for the Oculus our outlined below.
| | |
| --- | --- |
| Video Card | NVIDIA GTX 970 / AMD R9 290 equivalent or greater |
| CPU | Intel i5-4590 equivalent or greater |
| Memory | 8GB+ RAM |
| Video Output | Compatible HDMI 1.3 video output |
| USB Ports | 3x USB 3.0 ports plus 1x USB 2.0 port |
| OS | Windows 7 SP1 64 bit or newer |
Need assistance configuring an Oculus-ready or VR-ready desktop? Contact us!
The following two tabs change content below.
Josh Covington
Josh has been with Velocity Micro since 2007 in various Marketing, PR, and Sales related roles. As the Director of Sales & Marketing, he is responsible for all Direct and Retail sales as well as Marketing activities. He enjoys Seinfeld reruns, the Atlanta Braves, and Beatles songs written by John, Paul, or George. Sorry, Ringo.
Latest posts by Josh Covington (see all)