As our many fans and followers know, in November 2014, Samsung Electronics and Samsung America filed a lawsuit against Velocity Micro and our video card supplier, Nvidia, in Federal District court in Richmond, Virginia, accusing us of eight patent infringements. At the time, I pointed out that this was just a sleazy attempt to have their fight with Nvidia heard in Richmond courts because they thought they could get a faster trial here than anyplace else in America. Richmond's Federal District Court is nicknamed "The Rocket Docket" for good reason – cases go to trial quicker here than any other court in America. This past week, only days away from the trial, Samsung petitioned the court to drop all claims against Velocity and excuse us from the case, and the judge has now granted the motion. At the eleventh hour, they want to go to trial with only Nvidia, and the sham is finally exposed.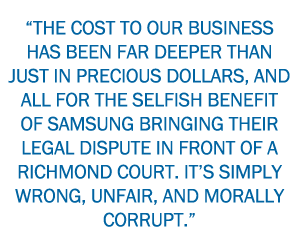 When Samsung originally filed their lawsuit, they made several claims that Velocity was violating some bizarre and weak patents that laid dormant in their portfolio. The only trouble with that tactic was that they did absolutely zero research about any of the claims, and made some enormous guesses about how we do business in order to find anything that might potentially stick. They never made any attempt to ask us in advance if we actually used any of the accused patents until I testified in their attorney's offices a couple of months ago. They scheduled my deposition to last all day and into the evening, but after hearing my testimony and realizing that we didn't violate a single count of the charges, I was released before lunch was even delivered. It was evident to me that the Samsung legal team was mortified to learn how empty their case against us was, and that they knew they were about to look foolish if I sat on the witness stand at trial.
We are not involved in what happens between Nvidia and Samsung from this point, but I am incredibly relieved to have Velocity Micro out of the lawsuit. From here, Velocity can get back to the business of delivering incredibly crafted custom computers. It's unfortunate that we've had this cloud hanging over us for these past 15 months. When you have a lawsuit over your head from one of the largest companies in the world, it carries tremendous consequences that Samsung and their attorneys certainly didn't care one iota about. Besides the utterly enormous legal expense involved, it diverted untold hours of Velocity Micro employees' time wasted gathering the 60,000+ records we handed over, the precious bandwidth spent working on our defense instead of improving our customer experience, and it universally shook the confidence that we would be able to survive this ordeal. No doubt, our suppliers, our customers, and even our employees openly wondered how this potentially devastating blow to the gut would affect our future, and therefore theirs. The cost to our business has been far deeper than just in precious dollars, and all for the selfish benefit of Samsung bringing their legal dispute in front of a Richmond court. It's simply wrong, unfair, and morally corrupt. For the sake of clarity, we may have been needlessly and recklessly attacked by a ferocious adversary, but Velocity Micro remains healthy and strong.
As for the ongoing case, I can only hope that Samsung is not ultimately rewarded for their sham. They simply made up a case against us in order for it to remain in Richmond, and now that they have given up that ruse, my wish is that they are not allowed to benefit from their harmful and unconscionable tactics.
The good news is that it's nearly over. As the case ultimately unfolded, I personally was convinced we were never in any real jeopardy of losing this fight, nor at risk of not being able to weather the storm as a company, but I am sure that many others had lingering doubts. Rebuilding our wounded reputation is the new priority, and that begins with getting back to the important work of advancing the best products and support experience in the computer industry. I am exceptionally proud of the job our team of amazing employees delivered throughout this ordeal, and didn't allow the legal storm to disrupt our operational excellence in any way. To our many customers, supporters and fans, we are eternally grateful for your continued backing and renewed confidence.
The following two tabs change content below.
Randy Copeland
Randy Copeland is the Founder, President, and CEO of Velocity Micro.
Latest posts by Randy Copeland (see all)