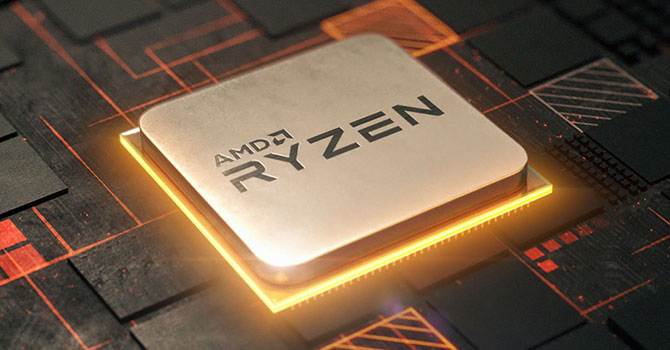 AMD's upcoming Ryzen 3000 CPU's represent a huge generational leap for the company. AMD has spent years refining a whole new manufacturing process to get incredible performance out the Zen 2 architecture. When combined with the X570 platform, AMD is set to shake up the industry for years to come with a host of new technologies and features.
New Zen 2 Architecture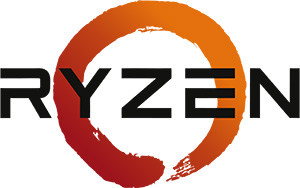 AMD's new architecture, called Zen 2, is based on a whole new manufacturing process to make faster, more efficient processors while still keeping costs comparable to previous generation AMD CPU's. Evolving from AMD's previous 12nm production process, Zen 2 moves to a brand new 7nm die as well as redesigning the physical layout of the CPU. Zen 2 utilizes a multi-chip module, meaning different components of the CPU are on separate die from each other. This has the potential to show huge performance gains, and AMD themselves has claimed up to a 15% increase in instructions-per-cycle (IPC). Final numbers are, of course, still to be determined, and we will be sure to put these new CPU's to the test when they launch, but it does seem like AMD has made a huge breakthrough in terms of performance.
Zen 2 also allows for very high core count CPU's that are still able to maintain relatively low TDP, or the total amount of heat generated, even under max load. For example, the upcoming Ryzen 7 3700X, which has 8 cores and 16 threads, runs at a max TDP of just 65W, while Intel's comparable i7-9900K with the same number of cores and threads gets up to 95W. Not only that, but the MSRP for the Ryzen is just $329 USD, while the 9900K comes in at $479. And the 3700X is only in the mid-tier for the Ryzen 3000 series! AMD is also launching CPU's with up to 16 cores and 32 threads to take on Intel's higher-end offerings.
What is X570?
Now let's talk about the other part of what makes Zen 2 and Ryzen 3000 so exciting – the X570 chipset. X570 is the chipset that will accompany the Ryzen 3000 CPU's at launch and will enable users to take full advantage of all the features it has to offer. In true AMD fashion, Ryzen 3000 CPU's are compatible with older motherboards as it will use the same socket (Socket AM4), however not all features will be available on older platforms, most notably PCIe 4.0 which is making its debut on X570. The PCIe 4.0 standard was announced a few years ago and like all other revisions of PCIe, it is twice as fast as its predecessor. PCIe 3.0 was able to throughput 1 GB/s (1 gigabyte per second) on a single lane, and 16 GB/s in a full-size slot, which is where your typical video card would be. PCIe 4.0 doubles that to an insane 32 GB/s in a single x16 slot!
But it's not just video cards that will benefit from this speed boost. In recent years, PCIe-based NVMe SSD's have become more common and affordable and continue to get faster each year. Now with PCIe 4.0, they are set to become even faster, with early results showing up to a 42% increase in read/write speeds. This number is expected to get even higher as PCIe 4.0 becomes more mature. Numerous manufacturers have already announced SSD's built for PCIe 4.0 and should be available around the same time as Ryzen 3000 and X570. Other noteworthy specifications for X570 include up to 8 x USB 3.1 10 Gpbs ports (in standard Type A and Type C connectors), up to 12 SATA 6 Gpbs ports for conventional drives, as well as support for AMD's upcoming Navi-based video cards (also built on a 7nm process similar to Zen 2). More on those in future posts.
The following two tabs change content below.
Ryan is a senior engineer and Production Manager at Velocity Micro. In his spare time, he enjoys entering Carson Wentz lookalike contests and lifting heavy objects.
Latest posts by Ryan Batson (see all)