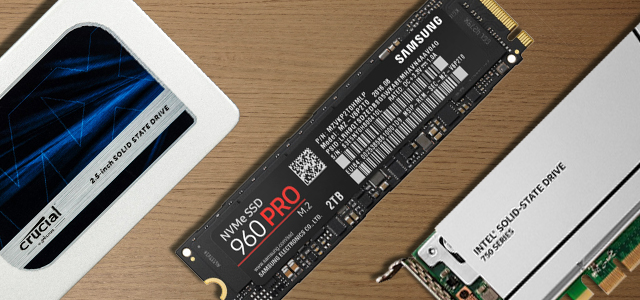 One of the bigger breakthroughs for PC hardware in modern memory has been the solid state drive. And with data transfer speeds many multiples of traditional 7200 RPM and even 10,000 RPM drives, it's easy to see why. Not only are boot and shut down speeds much faster with SSDs, but all aspects of the system are sped up as well. We highly recommend them. But what about NVMe SSDs, how do they differ from standard SATA drives? And do all M.2 drives classify as NVMe? Read on while we break down the differences between NVMe vs. M.2 vs. SATA.
What is NVMe?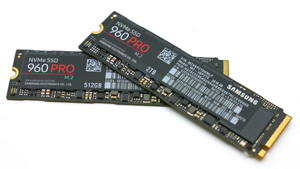 First, a quick note about SSDs – they're fast. So fast in fact, their limiting factor is not their own hardware, but rather the SATA III connection that hard drives have traditionally used. Enter NVMe. Standing for "Non-Volatile Memory Express," NVMe is an open standard developed to allow modern SSDs to operate at the read/write speeds their flash memory is capable of. Essentially, it allows flash memory to operate as an SSD directly through the PCIe interface rather than going through SATA and being limited by the slower SATA speeds.  Put another way, it's a description of the bus the component uses to communicate with the PC, not a new type of flash memory. It is also unrelated to the form factor, which is why NVMe drives can come in both M.2 or PCIe card form factors. With both form factors, the component is connecting electrically to the PC via PCIe rather than SATA. Yes, it's confusing, but stick with us.
Are all M.2 drives NVMe?
No. Remember, M.2 is just the form factor. M.2 drives can come in SATA versions (like the Crucial MX500 M.2 for example) and NVMe versions (like the Samsung 980 Pro), which describes the bus they use to electrically communicate with the other PC components. SATA M.2 SSD drives and 2.5" SATA SSDs actually operate at virtually identical spec. NVMe M.2's on the other hand, definitely do not, as we're about to discuss.
NVMe vs. M.2 vs. SATA – Speed
Modern motherboards use SATA III which maxes out at a throughput of 600MB/s (or 300MB/s for SATA II, in which case, it's time to upgrade). Via that connection, most SSDs will provide Read/Write speeds in the neighborhood of 530/500 MB/s. For comparison, a 7200 RPM SATA drive manages around 100MB/s depending on age, condition, and level of fragmentation. NVMe drives, on the other hand, provide write speeds as high as 3500MB/s for Gen 3 and 7000MB/s for Gen 4. That's 7x over SATA SSDs and as much as 35x over spinning HDDs!
So which option is best for you? Well, given the speed benefits of the NVMe drives, they're definitely worth a look, especially if your application is hard drive intensive or requires constant hard drive reads/writes, especially given how much the pricing has come down. For example, the Crucial P3 NVMe we offer is very close in price to the SATA based MX500 – both are M.2 form factor but only the P3 is NVMe. As always, we're available to assist and point you in the right direction via phone at 804-419-0900 or email at vmsales [at] velocitymicro [dot] com. Check out our selection of Custom PCs here!
Edit: Since this blog was originally posted in 2017, prices on flash memory have continued to drop. SATA SSDs are now only marginally more expensive than HDDs at lower capacities so if you haven't upgraded yet, the time has never been better!
The following two tabs change content below.
Josh Covington
Josh has been with Velocity Micro since 2007 in various Marketing, PR, and Sales related roles. As the Director of Sales & Marketing, he is responsible for all Direct and Retail sales as well as Marketing activities. He enjoys Seinfeld reruns, the Atlanta Braves, and Beatles songs written by John, Paul, or George. Sorry, Ringo.
Latest posts by Josh Covington (see all)