Happy Ryzen 9 3950X announcement day, everyone! The 3950X is one of AMD's most highly anticipated releases to date and today, we're finally able to lift the veil on some of the testing and performance benchmarks we've been fortunate enough to run over the past few weeks. If you're just learning about the new 3950X, then hold onto your hats, because it's about the get crazy.
About AMD Ryzen 9 3950X
The 3950X is AMD's latest installation in their new Ryzen line, joining the likes of the 3900X, 3800X, and 3700X. It runs on the same AM4 socket, X570 chipset boards as those other models and was built using the same 7nm "Zen 2" architecture. Where the 3950X sets itself apart though is core count, core speed, and efficiency as we'll see in a moment. Full specs are:
Core count – 16
Core Thread – 32
Base Clock – 3.5GHz
Max Boost clock – 4.7GHz
L3 cache – 64MB
TDP – 105W 
MSRP – $749
Needless to say, a 16 core processor aimed at consumers is pretty unprecedented – but how does the 3950X actually perform? Let's find out.
AMD Ryzen 9 3950X Benchmarks
We were able to run a number of benchmarks during our time testing the new 3950X. Below are some of those scores. First, Cinebench 20 which measures CPU performance and specifically, multithreaded performance: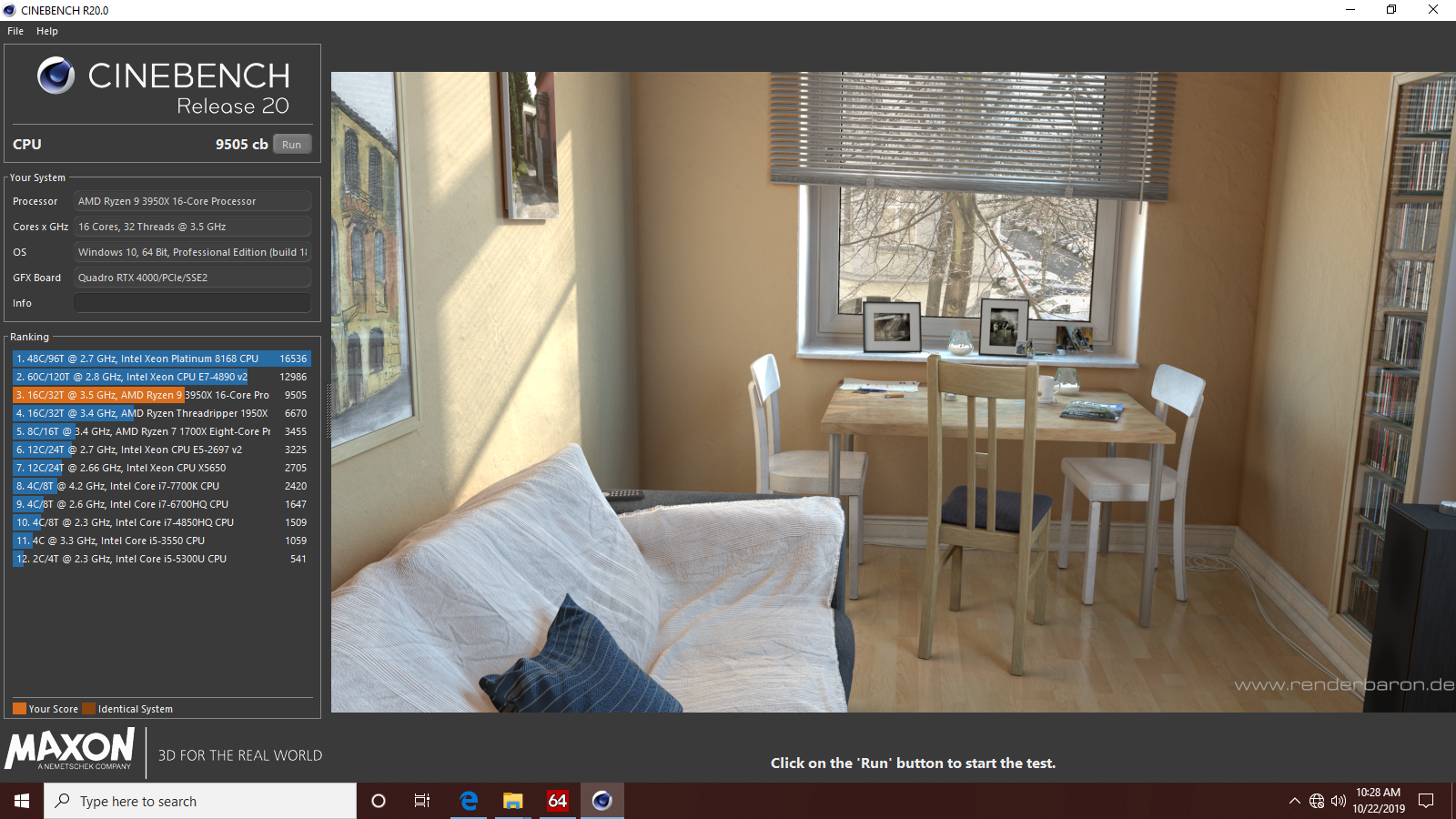 As you can see, the 3950X is a serious contender, third only to 48 core and 60 core Xeons and besting a 1st Gen Threadripper by close to 30%. Considering the higher pricepoints of those competing options, that makes this a serious value play too, even at the $749 MSRP. Not listed here is Intel's current flagship, the Core X 9980XE which we typically see scores for around 8700-8900 in this benchmark. It's close, but when factoring in that $1999 pricepoint, the value proposition vs the 3950X is no contest. Intel does have a new generation Core X upcoming soon with adjusted pricing set in response to AMD's latest, but how those will compare head to head remains to be seen. Stay tuned.
Next up, 3DMark Fire Strike, a standard gaming benchmark that also tests GPU for overall system performance.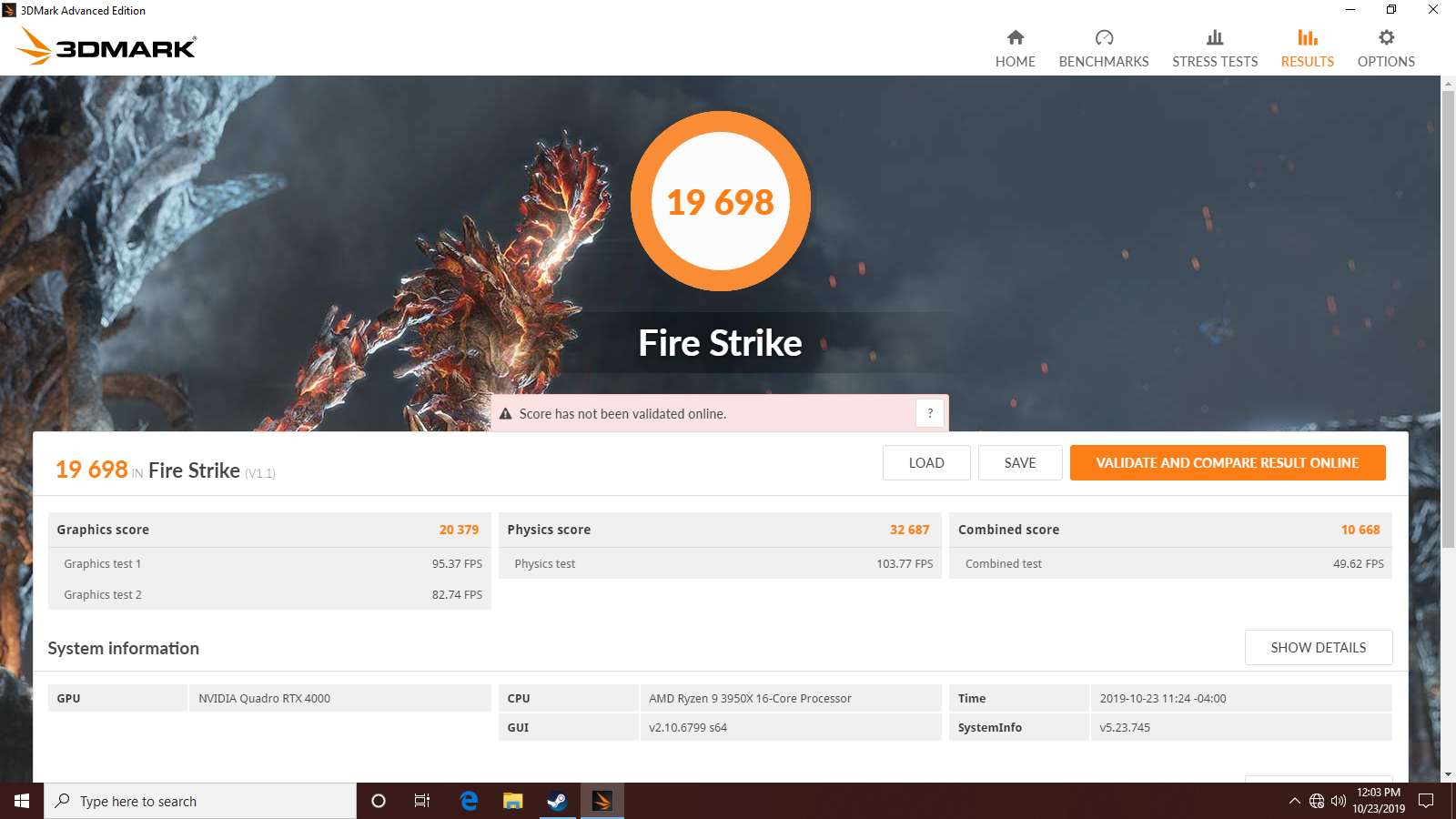 Because 3DMark is much more of a "full system" benchmark, it's difficult to create a simple apples to apples comparison here. Per 3DMark's own site though, the 19686 score would be tops of all validated scores with that card. Again, quite impressive.
Finally, a quick video summarizing our findings.
Availability
The Ryzen 9 3950X will be available on our Raptor Signature, Raptor Z55, and ProMagix HD60 on the official November 25th launch day.  Stay tuned to this blog or our social media channels for more info leading up to launch. 
The following two tabs change content below.
Josh Covington
Josh has been with Velocity Micro since 2007 in various Marketing, PR, and Sales related roles. As the Director of Sales & Marketing, he is responsible for all Direct and Retail sales as well as Marketing activities. He enjoys Seinfeld reruns, the Atlanta Braves, and Beatles songs written by John, Paul, or George. Sorry, Ringo.
Latest posts by Josh Covington (see all)