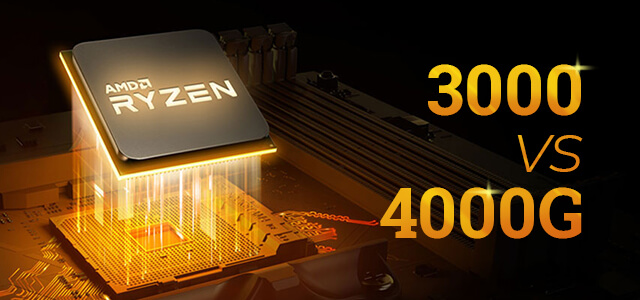 With the recent announcement of AMD's new Ryzen 4000G Series has come a lot of buzz, but also some confusion. While AMD has been great at hardware innovation lately, their messaging around this launch could be clearer. Let's go over some of the details and compare AMD Ryzen 3000 vs Ryzen 4000G.
What is Ryzen 4000G
AMD's Ryzen 4000G series is their newest collection of APUs (Advanced Processing Unit), a proprietary marketing term that AMD created to describe processors with a CPU and GPU on the same die. Essentially, they are processors with advanced integrated graphics onboard, designed specifically for mainstream users in need of a little more graphics output than a traditional CPU only would provide, but who don't need a discrete card for high end gaming or content creation. Sometimes referred to by the codename "Renoir," these new APUs use the same 7nm Zen 2 architecture as the most recent Ryzen CPUs, aka Ryzen 3000.
How Does Ryzen 3000 compare to Ryzen 4000G?
What the 4000G processors are not are replacements for Ryzen 3000. Since the 4000 series uses identical Zen 2 architecture, the base technology for the CPU portion is the same. This means that despite the naming convention, the 4000 DOES NOT outperform the 3000 in most CPU only benchmarks. In fact, because having the GPU on the die essentially takes some power away from the CPU, you'll likely see about 10% better performance from Ryzen 3000 vs. a 4000 at a comparable price point.
See the chart below to get a better understanding of how these two product groups align.
Cores/Threads
Stock Speed
Boost Speed
Ryzen 3
Ryzen 3300
4/8
3.8
4.3
Ryzen 4300G
4/8
3.8
4.0
Ryzen 5
Ryzen 3600
6/12
3.6
4.2
Ryzen 4600G
6/12
3.7
4.2
Ryzen 7
Ryzen 3700X
8/16
3.6
4.4
Ryzen 4700G
8/16
3.6
4.4
What is Ryzen PRO 4000G?
Alongside this new line of APUs, AMD has also announced Ryzen PRO versions. These processors closely mirror the 4000G parts in terms of performance and price, but also include additional security features that benefit enterprise customers. Learn more about what Ryzen PRO can offer your business here.
Cores/Threads
Stock GHz
Boost GHz
Security Features
Ryzen 3
Ryzen 4350G PRO
4/8
3.8
4.0
Yes
Ryzen 4300G
4/8
3.8
4.0
No
Ryzen 5
Ryzen 4650G PRO
6/12
3.7
4.2
Yes
Ryzen 4600G
6/12
3.7
4.2
No
Ryzen 7
Ryzen 4750G PRO
8/16
3.6
4.4
Yes
Ryzen 4700G
8/16
3.6
4.4
No
Who Should Buy Ryzen 4000G
So given this info, who should buy AMD's new APU processors? Short answer is 1) Enterprise customers who want to security advantages of Ryzen PRO and 2) Mainstream users looking for the performance/value equation that APUs offer. Power users, gamers, and content creators who will be pairing their Ryzen processor with a higher end discrete graphics card, should still go with Ryzen 3000. I know the naming convention makes it counter-intuitive, but 3000 will provide the best overall performance for that user.
Where to Buy
AMD has made Ryzen 4000G and PRO 4000G available to purchase only in prebuilt systems through OEMs like us at this time. That may change in the future, but for now, no individual processors can be had through NewEgg, Amazon, or other component retailers. Configure here.
The following two tabs change content below.
Josh Covington
Josh has been with Velocity Micro since 2007 in various Marketing, PR, and Sales related roles. As the Director of Sales & Marketing, he is responsible for all Direct and Retail sales as well as Marketing activities. He enjoys Seinfeld reruns, the Atlanta Braves, and Beatles songs written by John, Paul, or George. Sorry, Ringo.
Latest posts by Josh Covington (see all)