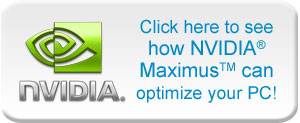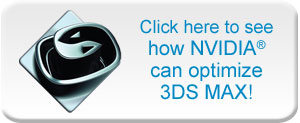 Encode Video Faster
The ProMagix HD360MAX combine NVIDIA Quadro and NVIDIA Tesla GPUs to deliver both high-performance graphics and parallel processing. The result is exponentially faster encoding, even when working with complex layers, effects, or HD content, allowing you to spend less time encoding and more time creating.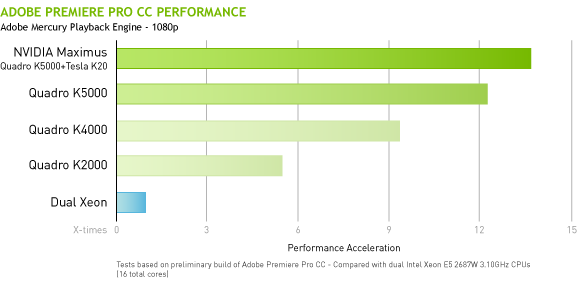 Learn More About GPU Accelerated Technology
Tap Into the Power of CS6
The Adobe Mercury Playback Engine in Adobe Premiere Pro CS6 leverages the HD360MAX's GPU-accelerated power to deliver up to 8x faster performance for key features, including:
Uninterrupted Playback — Play, edit, trim, and scrub through video clips while adding and manipulating GPU accelerated effects in real time without stuttering or choking, for instant feedback to let your creativity flow.
Multicam Playback — Work with multiple angles, camera, and shots all in real time with the Multicam playback feature, all in fluid, real time frame rates.
Warp Stabilizer — Automatically correct previously un-usable shaky or uneven camera footage, all in real time.
Visualize and Simulate on the Same System
Gone are the days when design and simulation had to be disjointed and performed on two separate systems. Tesla companion processors automatically perform the heavy lifting of photorealistic rendering, freeing up CPU resources for the work they are best suited for - I/O, running the operating system and multi-tasking - and allowing the Quadro GPU to be dedicated to powering rich, full-performance, interactive design.
Why Choose Velocity Micro?
Our obsession with creating the fastest, most awe inspiring PCs is at our core. Since 1997, no PC company has won more awards for performance, quality, reliability, and customer care than Velocity Micro. This is the legacy that we now bring to all of our products, including our incredibly powerful GPU powered HPC solutions. Just a few reasons to choose Velocity Micro to build your new GPU system:
Expert Engineers — Our specially trained team of engineers knows high performance computing and will work with you to ensure that you get every drop of performance that you've paid for from these systems. There is no better or more knowledgeable team in the industry than ours.
Superior Craftsmanship — Our years of expertise in building high performance systems has allowed us to build HPC systems with better airflow and maximized cooling. The end result is an HPC system that's faster, more reliable, and lasts longer than the competition.
100% US-based— Every HPC system we create ships from and is supported by our Richmond, VA facility. A call placed to our sales or support teams will never be routed anywhere offshore. Not ever.
Learn More About Why PC Enthusiasts Continue To Choose Velocity Micro!