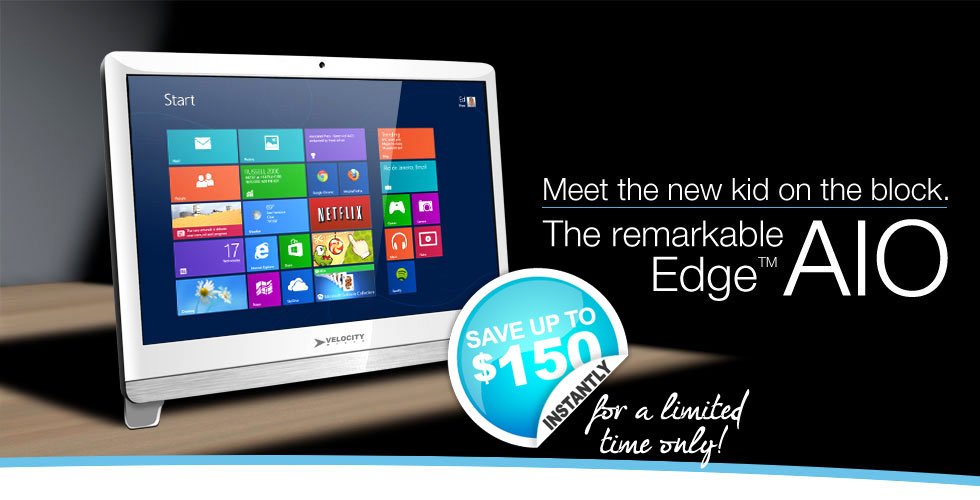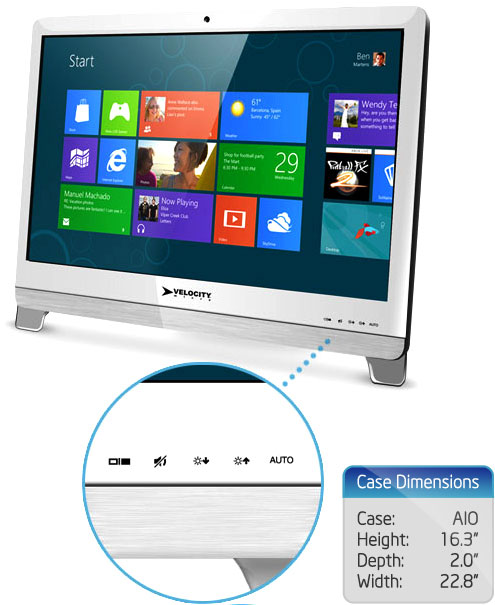 Designed with the same ideals that have made us famous with enthusiasts around the world, the Edge AIO combines the craftsmanship, performance, and support of an award-winning Velocity Micro PC with the convenience and efficiency of an All-in-One. Crystal clear 23.6" screen in full 1080p, thin design, clean lines. The best part: the Edge AIO is fully configurable to meet your needs.
This is the solution you've been looking for to the low powered, low expectation All-in-One competition. Supported by 100% US-based experts.
Starting at $799.99 $649.99
Out of Stock
Anywhere in Your Home
The Edge AIO's sleek design fits anywhere in your home. Add a PC to the kitchen, living room, bedroom, or kid's room easily, without worrying about a bulky tower and monitor. The Edge AIO's Pearl White finish matches any décor while built in Wifi gives you full Internet access from anywhere within your home's existing network.
Fully Configurable
Not all customers are the same and not all customers have the same performance requirements for their All in One. That's why we've made the Edge AIO fully configurable to meet your needs. Add discrete graphics, a quad core processor, or more RAM to customize the system that's right for you. All the power you need without excess.
23.6" Screen
The Edge AIO features a crystal clear 23.6" 1080p resolution LCD screen just like your HDTV for bright, crisp images and lifelike video. Don't compromise on a smaller screen.

It's Okay to Stare
The Edge AIO was specially designed by our expert engineering team to uniquely merge aesthetics and function to create a look that fits any décor, anywhere in your home. From the Pearl White finish to the sleek and slim design, the Velocity Micro Edge AIO is as beautiful as it is amazing.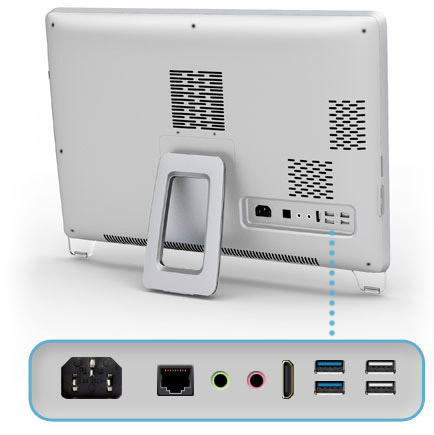 A Legacy of Excellence
Since our first review in 2002, no PC manufacturer has won more awards from the press than has Velocity Micro. The Edge AIO continues that legacy by combining design, power, efficiency, and convenience into one remarkable package.
Quality Control
Before shipping, the Edge AIO endures a grueling set of tests and quality control measures that would bring most systems to their knees. Stress tests, extensive reboots, an overnight burn in, and an exhaustive 200-point QA checklist ensure that every Edge AIO meets our own lofty standards. Sure, it's more work. But no one ever said that creating something this remarkable would be easy.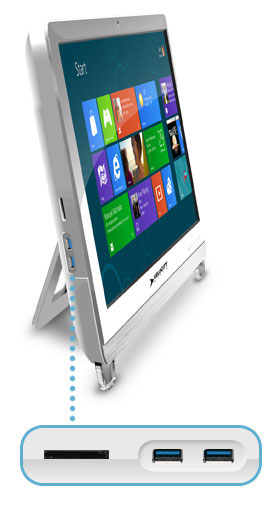 100% US Tech Support
Every Velocity Micro PC comes with complimentary lifetime business hours phone support. And the best part – a call placed to our expert, non-tiered support team will never be routed anywhere offshore. Not ever. It's like having your own personal geek, just a phone call away. It costs us more, but we refuse to let anything get in the way of an astonishing customer experience.
Made in the USA
Each and every Velocity Micro PC is designed, assembled, and tested in our Richmond, VA headquarters. We don't outsource. We don't cut corners. We don't compromise. It's just that simple.
No Bloatware
If you've ever bought a computer from the behemoth, mass produced competition, you know bloatware. Free trials you don't want, software you didn't ask for, search bars you'll never use – all choking your system. We don't do it, and we never will.
With Velocity Micro, we only install what you ask us for, and not a thing more.
Starting at $799.99 $649.99
Out of Stock