How to connect Peripherals to your PC
USB
There are a multitude of device types that can connect via USB. Examples include:
Printers & Scanners
Cameras
Mice, Keyboards & Gamepads
Microphones, Speakers, & Turntables
Firewire/1394
Nearly as many devices utilize Firewire connectivity but these are primarily audio-visual in nature.
Ethernet/RJ45
Primarily used for wired networking as in a WAN or LAN for business, most home users connect their Ethernet port directly to their broadband Internet router.
Audio
Connections of this type can be complex depending on the type of audio connection. The image below show the standard 2-Speaker connection to the audio-out speaker port on a PCI sound card. For more complex configurations, see:
How to connect speakers to your PC.
Video
DVI video connections are virtually the standard today, allowing digital video signal, including HDCP. On most dual-head DVI graphics cards with side by side ports, the monitor is usually connected to the left DVI port (Port 1) as you face the rear.
Recently manufactured dual-head cards place the ports above and beneath each other as seen below. In this case, Port 1 would be the lower port.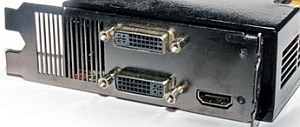 See How to set up multiple displays for more complex video configurations.