How to set up multiple displays
To add a second monitor to your computer, you'll need to make sure that you either have a video card that supports multiple monitors, or that your computer has more than one video card. The easiest way to determine if your video card supports multiple monitors is to look at the back of your computer and see if your card has two video ports for connecting your monitors. The example image below shows that this user can connect two monitors to the upper video card, or one monitor to each the upper and lower video cards. In fact, using both dual head video cards shown below, this user could have three or four monitors connected.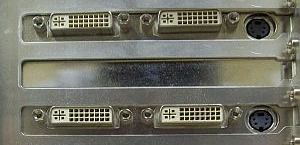 Once you have made sure that your video card(s) can support a second monitor, follow these steps to add the additional monitor:
1. Turn off your computer and monitor.
2. Locate the video ports on your computer. (See illustration.)
3. Connect the second monitor to the unused video port.
4. Plug the second monitor into an electrical power source and turn it on.
5. Turn on your original monitor.
6. Turn on your computer.
Windows should recognize the monitor once the computer has started. If you are prompted to install driver software, see the instructions that came with the monitor.
Helpful Links:
Multiple Monitors: Frequently Asked Questions
Learn how Windows manages multiple displays, how to change the way your desktop appears on each display, and more.
Understanding Multiple Monitors:
Learn how Windows manages multiple displays and how to change the appearance of additional displays.
Note: Multiple monitor display and SLI mode are not compatible configurations. In the example above, the user would have to choose one or the other. Alternatively, the user could enable SLI mode on the two existing cards, and add a third video card to support additional displays.