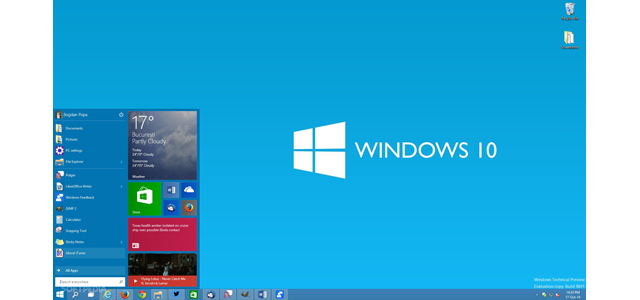 As the availability of Windows 7 Home Premium and Professional come to a close, more attention begins to focus on the next OS from the team in Redmond – Windows 10. So what do we know about this new operating system? Will it improve on the shortcoming of Windows 8/8.1? And what's still a mystery?
What we know today
Yes it's Windows 10, not Windows 9

The first thing that Microsoft did during their preview was put the name rumors to bed. It won't be called Windows One and Windows X. Even Windows 9, the logical next step forward from Windows 8 was a no go. Whether Microsoft is hoping to distance itself (literally) from the less than popular Windows 8 or attempting to avoid conflict issues with Windows 95 and 98 (often written as "Windows 9" in older coding), we can't be sure.
The Start Menu makes its triumphant return
Perhaps the biggest complaint that we heard about Windows 8 was the lack of traditional Start Menu. Version 8.1 and third party apps like Start8 helped, but it still wasn't the same as we were used to. Happily, Windows 10 brings back YOUR start menu, the one you've come to know and love.
No more desktop tiles
The biggest change to Windows 8 – and thus one of the biggest gripes – was the implementation of a tile based interface, often called "Metro," in place of traditional icons. With Windows 10, desktop icons are back in place of Metro tiles, though less obtrusive live tiles will still have a role in the new OS, albeit relegated to the Start menu.
What we still don't know
Release Date
The only definitive info that Microsoft has provided on a release date is that it will be "later in the year" in 2015. Whether that means an October release similar to previous Operating Systems or sometime earlier, all we can do is speculate.
Upgrade Programs
Though rumors abound of a Windows 10 upgrade program for Windows 8 users, nothing concrete has been announced. Microsoft did offer free upgrades just prior to the launch of previous Operating Systems though, so we have to assume some type of program will be put in place again.
Price
No pricing information has been announced just yet but we'd be pretty surprised if pricing wasn't at least in line with Windows 8.
The following two tabs change content below.
Josh Covington
Josh has been with Velocity Micro since 2007 in various Marketing, PR, and Sales related roles. As the Director of Sales & Marketing, he is responsible for all Direct and Retail sales as well as Marketing activities. He enjoys Seinfeld reruns, the Atlanta Braves, and Beatles songs written by John, Paul, or George. Sorry, Ringo.
Latest posts by Josh Covington (see all)