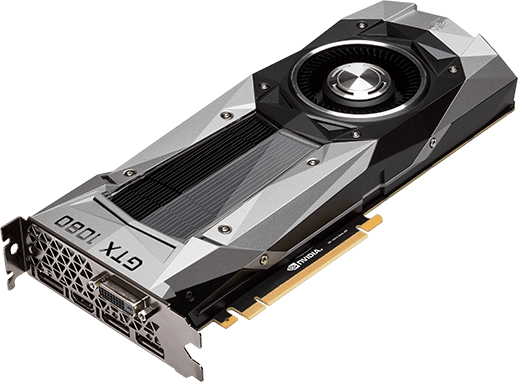 Today, we're incredibly excited to announce the immediate availability of the brand new NVIDIA GeForce GTX 1080 Graphics card, the first of NVIDIA's highly anticipated Pascal family of GPUs. We've been lucky enough to get to test the GTX 1080 for about a week and so far just like the press, we've been blown away by the performance and efficiency of this truly amazing GPU. Whether you're using it for gaming or other video intensive applications like media creation or 3D, we've never seen a card that can rival the GTX 1080 and quite honestly, I can't remember ever seeing such a huge step up in performance from one gen to the next as this one. Read on to learn more.
Specs
First, we'll take a look at the specs of the GTX 1080 compared to NVIDIA's two most recent launch products, the GTX 980 and GTX 780. Obviously, numbers don't tell the whole story, but we can already start to see what are marked differences between this generation and those previous.
| | | | |
| --- | --- | --- | --- |
| | GTX 1080 | GTX 980 | GTX 780 |
| CUDA Cores (single precision) | 2560 | 2048 | 2304 |
| Base Clock | 1607MHz | 1126MHz | 863MHz |
| Boost Clock | 1733MHz | 1216MHz | 900MHz |
| Total Video Memory | 8192 MB GDDR5X | 4096 MB GDDR5 | 3072 MB GDDR5 |
| Memory Speed | 10 Gbps | 7 Gbps | 6 Gbps |
| Total Memory Bandwidth | 320 GB/s | 224 GB/s | 288.4 |
| Transistor Count | 7.2B | 5.2B | 7.1B |
| Power Connectors | Single 8-Pin | 2 x 6 Pin | One 8-pin, One 6-Pin |
| Recommended Power Supply | 500W | 500W | 600W |
| Thermal Design Power (TDP) | 180W | 165W | 250W |
Benchmarks
Digging into the benchmarks is where things get really interesting. You may have heard during NVIDIA's launch event phrases like "30% performance increases" and even "irresponsible amounts of performance." But what does that really mean? Is there anything to back up those claims?
As it turns out, absolutely. Check out these real world FPS benchmarks: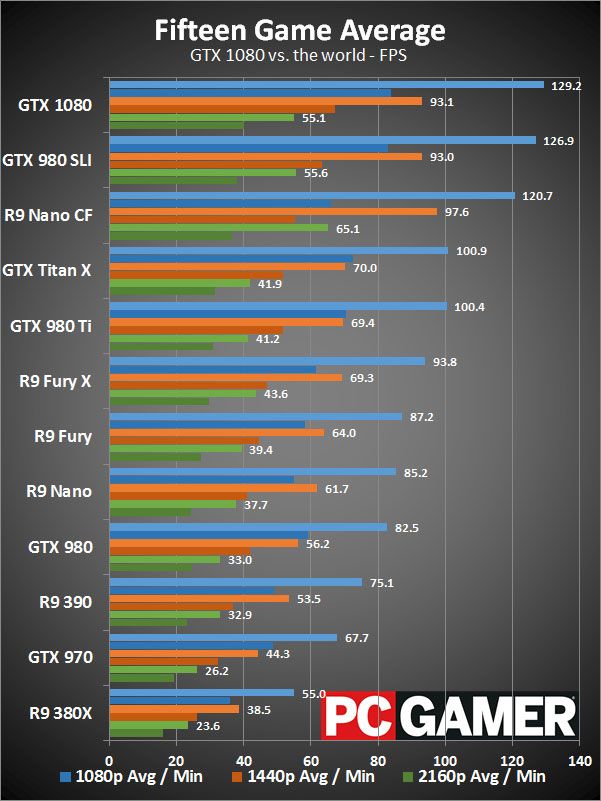 As you can see, the 1080 sits at the top of the heap, easily beating the GTX 980 Ti and GTX TITAN X by around 30%. Even two GTX 980 in SLI didn't stand a chance, which is pretty remarkable, especially considering the costs to get that level of performance vs. the cost of a single GTX 1080. Synthetic graphics benchmarks like 3DMark tell a similar story:
Efficiency
Insane benchmarks are one thing, but doing all that in an efficient manner and without turning your PC into a space heater is really where NVIDIA sets themselves apart. They could have easily left the power consumption levels on par with previous generations and still had the best performance per watt of any competing card by far. Instead, power consumption was actually reduced both under load and at idle, and by SIGNIFICANT levels. Impressive. Most impressive.
As of this writing, we do have a small stock of GTX 1080 currently in inventory in our Richmond, VA warehouse. If you've been waiting for this new card before building a new PC, I HIGHLY recommend giving us a call or configuring online as soon as possible. Allocation at launch is tight for everyone, so I can't promise how long these will be in stock.
The following two tabs change content below.
Josh Covington
Josh has been with Velocity Micro since 2007 in various Marketing, PR, and Sales related roles. As the Director of Sales & Marketing, he is responsible for all Direct and Retail sales as well as Marketing activities. He enjoys Seinfeld reruns, the Atlanta Braves, and Beatles songs written by John, Paul, or George. Sorry, Ringo.
Latest posts by Josh Covington (see all)