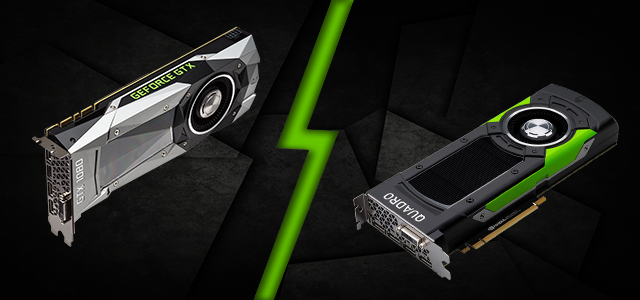 Another of the frequently asked questions we get when custom configuring a PC or workstation for a customer is which NVIDIA GPU option is best – Geforce vs Quadro. Which GPU is the best value? And which option is best suited for what applications? Let's go over some of the differences, Pros, and Cons of both Geforce and Quadro.
Geforce Pros
Faster clock speeds – Dollar for dollar, Geforce cards generally offer faster GPU clock speeds in the 10-20% range. For example, the Geforce GTX 3070 features a boost clock speed of 1770 MHz while the more expensive Quadro P2200 maxes out at 1470MHz. This speed equates to better overall general performance, which brings us to our next point…
Versatility and value – Looking to do a little gaming, a little 3D rendering, and some video? Faster clock speeds along with more CUDA cores and VRAM dollar for dollar make the Geforce cards the go-to for all purpose systems. That power for the money, especially at the lower/mid tiers, makes Geforce the better value for most users.
Multi-monitor support – For day traders, enthusiast gamers, or extreme multi-taskers looking to use 3, 4 or even 8 monitors, Geforce cards provide the best path forward. 30-Series cards from RTX 3060 and up all support 4 monitors each natively and can easily be paired with a second card to double the monitor support. Most Quadro cards will support either 3 or 4 displays too, but at a higher cost.
Best for: Gaming, all around computing, day trading (multi monitor support), budget CAD, amateur video
Quadro Pros
Specific Render tasks – Quadro cards are designed for very specific render tasks like CAD design and professional video rendering. For example, the wire frame, double sided polygon rendering common with many CAD programs like AutoCAD makes Quadro the clear choice for this type of work, outperforming Geforce by a significant margin.
Extreme Power – Geforce does have beefy options like the RTX 3080 Ti, but for the most extreme performance, a Quadro is simply without equal. For example, the Quadro RTX A6000 features a stunning 48GB of GDDR6X VRAM and 10752 CUDA cores to provide 38 TFlops of power – and that's on a single card. No Geforce card comes close. That type of power does come at a cost, but if the budget is open, Quadro is king in this department. Additionally, Quadro cards are easier to connect via NVLink for scalable performance and vRAM pooling, further raising the ceiling of maximum performance.
Double precision computations – For complex double precision computations like those found in scientific and arithmetic calculations, Quadro significantly outperforms the Geforce equivalent. This is a very specific use case, but if it's yours, you'll understand the importance.
Durability/Warranty – Similar to Xeon processors, Quadro cards are generally designed for maximum durability and longevity and stand up to the rigors of daily strenuous use better than the consumer oriented Geforce. As a result, Quadro cards offer a longer, more robust warranty on average.
Best for: Certain Scientific and data calculations, CAD rendering, Professional-grade video production, 3D creation
So at the end of the day, which is better?
Ultimately, this really depends on your specific use case. For a lower to mid-range budget, I almost always recommend Geforce simply because of the value and versatility. But if all our rendering performance is what you're after for CAD and video specifically, Quadro is likely the way to go.
Still unsure? Give one of our experts a call at 804-419-0900 for help configuring a PC with the right GPU to meet your needs or start configuring yourself now.

The following two tabs change content below.
Josh Covington
Josh has been with Velocity Micro since 2007 in various Marketing, PR, and Sales related roles. As the Director of Sales & Marketing, he is responsible for all Direct and Retail sales as well as Marketing activities. He enjoys Seinfeld reruns, the Atlanta Braves, and Beatles songs written by John, Paul, or George. Sorry, Ringo.
Latest posts by Josh Covington (see all)