I am having trouble with my new VMdrive™, will it work with my system?
Velocity Micro's new external USB Netbook DVD drive, the VMdrive, is the perfect slimline companion for netbook users. It burns and reads DVD's and CD's. Use only MINUS media for burning (ie: not DVD+R, but DVD-R). With the VMdrive is included the Encina DiscMaker, a simple burnware program that allows for the creation of Data CD's and Data DVD's.
The Encina DiscMaker software is designed to burn files from your computer to CD or DVD media. It is only capable of creating simple data disks and cannot create advanced disks. If you wish to create advanced CD's like Music CD's, DVD movies, mixed content CD's, or CD/DVD duplication, you will need to use a 3rd party application with those capabilities, like those sold by Nero or Roxio.
In most cases, your VMdrive should be totally Plug and Play. Simply plug your drive into your computer's USB 2.0 port using the included USB cable. Drivers and software should install automatically from the operating system. A single USB 2.0 port will power the device in most instances, depending on the capabilities of your computer. Some computer USB 2.0 ports may not provide enough power to fully operate the VMdrive, especially during high draw applications such as burning DVDs and DVD playback. If this is the case, you may need to utilize the included AC-USB power cord.
All Users NOTE: If you have both USB cables attached and your device is not ready to use, you may need to confirm that your USB ports are USB 2.0 and that your motherboard's chipset drivers are installed.
Vista Users NOTE: If you have trouble installing the software on the CD, temporarily disable User Account Control and Antivirus software and try to install again.
XP Users NOTE: If the system has more than one device capable of burning installed, you must enable burning on the VMdrive if you want to burn with it (see image below) rather than the other drive. XP only allows one drive to have direct burning capability enabled at a time. See additional notes for XP users below.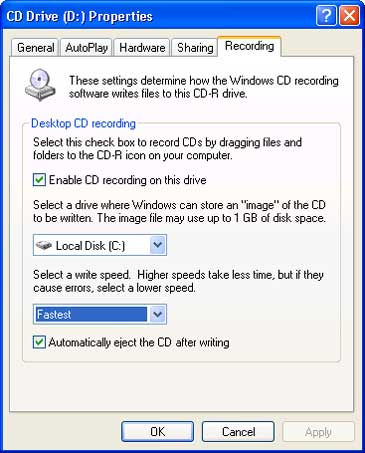 XP Users & Windows 7 Starter Users NOTE: Also note that DVD playback is not possible with Windows XP or with Windows 7 Starter unless the DVD codec is installed. XP and Windows 7 Starter users will need to install DVD player software like PowerDVD, WinDVD, or VLC Media Player that include this playback codec. If you install our blue VMDrive Software CD, this includes the Encina DiscMaker burning software as well as the VLC Media Player. If you have trouble installing Encina DiscMaker, download this installer file including .Net Framework.