My Vista computer no longer starts properly, what can I do?
If you attempt to start your Vista based computer but it does not complete successfully due to an error, you may be able to repair the startup process using the Startup Repair tool on the Windows Vista installation disk. Follow the steps below to attempt a startup repair.
Boot off the Windows Vista DVD (By inserting the Vista Disk in your DVD drive, restarting your computer, and promptly pressing a key when you see the message, "Press any key to boot from CD or DVD") and then click Next at the first prompt: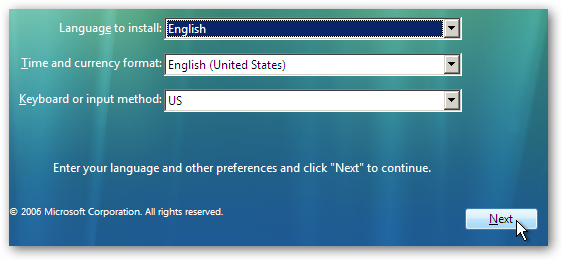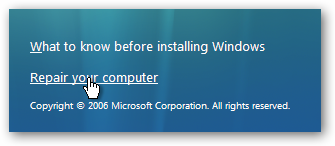 When you see the prompt to "Install Now", DON'T!
You should see a link in the lower left-hand side for "Repair your computer".
The installation process will attempt to find your Vista installation directory. If there's more than one in the list, select the correct one and then use the Next button again.
In the System Recovery Options, click the first link for "Startup Repair". The installation process will repair the system, and then prompt for you to reboot.
This should fix many common problems automatically. If it finds problems but cannot fix them, you may be asked if you would like to use System Restore to restore your computer to an earlier date. This also may return your PC to normal booting without having to reinstall Windows.