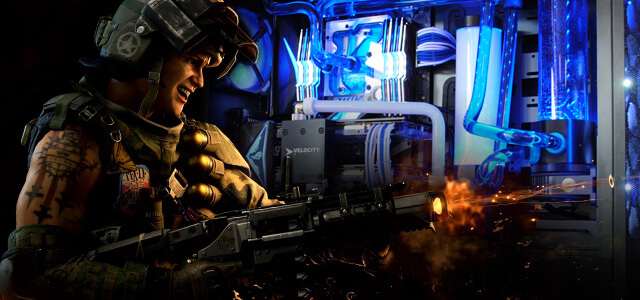 What is the Most Powerful Gaming Computer?
Gaming computers come in all shapes and sizes. You can tweak the components and settings endlessly, but what is the most powerful gaming PC?
The Most Powerful Gaming PC
Now before we get started, its important to note that power is somewhat subjective. For example, there will be people that say, if you don't use LN2 (liquid nitrogen) to achieve maximum overclocks your PC isn't the most powerful. There is merit to that argument but for the sake of this exercise we will stick with mainstream consumer components. So, no LN2 no 32 core CPU's just the mainstream stuff that most people actually use in their daily lives.
Most Powerful Gaming PC Components
CPU – For the CPU we will go with a Intel Core i7-8700K overclocked to 5.1GHz. While AMD has made great strides with its Ryzen 2 Platform, 8700K is still king when it comes to gaming.
Motherboard – The Asus Rog Maximus X Hero will be our motherboard of choice. It offers excellent features with easy overclocking, and fast memory support
Storage – For storage we will add dual 2TB Samsung 970 Pro's in RAID. This will provide lightning fast speeds and near instant load times.
RAM – 4x16GB Sticks of Corsair Vengeance LPX DDR4-4133MHz RAM will handle memory in this system. Priced at a whopping $1100, it isn't cheap but will let us hit peak performance in our system.
Graphics – The most important component in a system like this is the graphics card or cards. We chose dual $3000 Nvidia Titan V GPU's. It really doesn't get more powerful than this. With the move away from multi GPU compatibility, we didn't see much value in going past dual graphics cards in a mainstream gaming system.
Power Supply – For power we chose the Corsair AXi Series fully modular 1500W 80 plus Titanium PSU. This is overkill for sure, but will keep the system humming along with no issues for years to come.
What do you think about our component selection? Let us know what you would have done differently in the comments below.
The following two tabs change content below.
Charlie O'Donnell
Charlie has been a member of Velocity Micro's team since 2018. He has a love for both graphic design and PC gaming.
Latest posts by Charlie O'Donnell (see all)