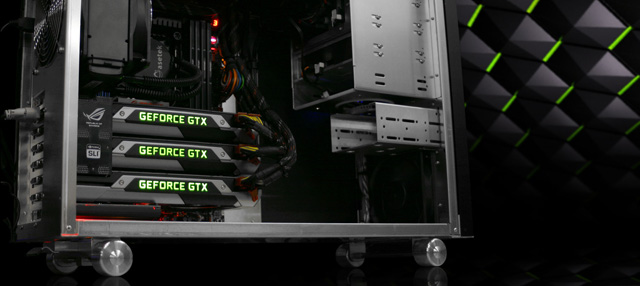 When the concept of using two, three, or even four graphics cards in tandem (trademarked as SLI by NVIDIA, Crossfire by ATI/AMD) began to hit the mainstream 7-8 years ago, it was a game-changer. Benchmarks were crushed. Frame rates exploded. Developers began to work that potential for extra horsepower into new software, taking gaming forward a giant leap. But today, with remarkably powerful and efficient single cards like the NVIDIA GeForce GTX 780Ti and AMD Radeon R9 290X available, is running multiple cards necessary? Let's run down the Pros and Cons of both single and multiple GPU configurations, along with customers that benefit from each.
Single GPU
The best option for most standard users, single GPU configurations can handle almost all current games at standard HD resolutions with playable frame rates. A single NVIDIA GeForce GTX 750 Ti or higher will run up to four displays with some higher end AMD cards supporting up to six, although not recommended for gaming.
Pros – Economical and plenty of power for most users. Provides the opportunity for a better upgrade path. Overall cooler and quieter operation than multi-GPU configurations.
Cons – Limited to 4 displays (most cards). Even extreme cards can't handle 4K gaming smoothly.
Best for – Home office users,standard resolution gamers, video editors
Multi-GPU
For users who simply must have the best of the best, a multi-GPU configuration is right up their alley. This is the way to get the very best frame rates and benchmark scores and the ultimate in bragging rights. Users of multi-monitor set ups (4+) may find it more cost effective to use two mid-range cards instead of a single, higher powered card.
Pros – Increased graphic performance and benchmarks especially at high resolutions or 4K. Preferable for multi-monitor gaming.
Cons – Double or triple the spend does not equal double or triple the performance. Requires more robust power supply. Can generate additional noise and heat especially under load. Frame rates may go beyond what the eye can identify. Typically not optimized for video editors.
Best for – Ultra resolution or 4K gamers, extreme enthusiasts,enthusiast users in need of 4+ displays
The following two tabs change content below.
Josh Covington
Josh has been with Velocity Micro since 2007 in various Marketing, PR, and Sales related roles. As the Director of Sales & Marketing, he is responsible for all Direct and Retail sales as well as Marketing activities. He enjoys Seinfeld reruns, the Atlanta Braves, and Beatles songs written by John, Paul, or George. Sorry, Ringo.
Latest posts by Josh Covington (see all)