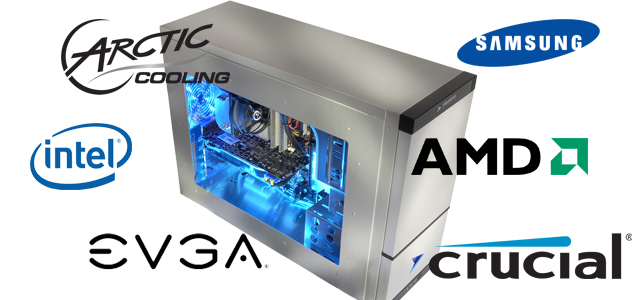 Since 1997, we've been building custom gaming PCs for enthusiasts through a process of expert craftsmanship, extreme attention to detail, and the use of only the best, most powerful parts. No one does what we do better. Here's what we've learned through the years about what you need to build a GREAT gaming PC. Just focus your budget in these key areas in this order for maximum bang for the buck:
A powerful video card – Easily the single most important aspect of a gaming PC, we usually recommend buying the best single GPU you can afford for your build to achieve maximum frame rates*. Assuming you've left yourself enough PSU headroom, the single card configuration gives you room to upgrade to a CrossFire or SLI setup in the future to handle more hardware intensive games down the road. If you're having trouble choosing, here's a great resource for comparing single cards against one another – http://www.videocardbenchmark.net/high_end_gpus.html
*If 4K resolution is your goal however, you'll need to start with a tri -card setup to achieve playable frame rates. Contact us for more information and assistance.
A quad core processor – The CPU is your computer's brain, and without a strong one, your gaming performance is going to suffer big time. For Intel-based systems, we typically recommend at least a Core i5 processor. The hyperthreading capability of the i7's are great, but are often not utilized in gaming applications. If you're on a budget, give AMD's Kaveri-based APUs with integrated R7 and R9 graphics a look for maximum performance without straining the wallet.
Low latency RAM – RAM is a crucial component for fast and fluid everyday PC use and multitasking, as well as gaming. For maximum responsiveness, we recommend at least 8GB of 1600MHz RAM with a low latency like the Crucial Ballistix RAM we offer in our gaming systems. If it's in your budget, upgrading to 16GB or even 32GB, while not needed for today's games, is a great way to future proof yourself for a few years.
Hard Drive – The faster the hard drive, the quicker your games will load and the better they'll perform overall. These days, solid state drives are the obvious choice for the money as prices continue to go down and capacities continue to go up. If you can't afford a large single SSD, try a smaller SSD boot drive configured with a larger 7200 RPM drive for storage – it's the best of both worlds, and the best way to maximize your budget.
Ready to get rolling? Click here to choose a starting configuration and customize your ultimate gaming PC, or call us at 888-300-4450 for assistance.
The following two tabs change content below.
Josh Covington
Josh has been with Velocity Micro since 2007 in various Marketing, PR, and Sales related roles. As the Director of Sales & Marketing, he is responsible for all Direct and Retail sales as well as Marketing activities. He enjoys Seinfeld reruns, the Atlanta Braves, and Beatles songs written by John, Paul, or George. Sorry, Ringo.
Latest posts by Josh Covington (see all)