With the launch of Intel's Haswell-R processors (now available on our Edge and Vector series desktops!) has also come Intel 9 Series Chipsets, also known as Z97 and H97. There aren't too many new features, at least compared to Intel's previous chipset family, but let us clear up the confusion over these two options to help you choose which is best for your needs.
Here's a quick overview of the differences and similarities of these two new chipsets.
Both Z97 and H97
Intel 9 Series Chipsets do bring several new advancements to the table, the following of which are available with both Z97 and H97 chipsets.
Support M.2, a specification for certain solid state drives which allow two lanes of PCI express for data speeds up to an amazing 1GB/s.
Updates to Intel's Smart Response Technology to allow a single drive to be used to boost boot and launch times vs. the two separate drives of the past.
Device Protection Technology with Bootgaurd which provides an additional layer of protection from Malware.
Future support for Intel 5th Gen Processors and unlocked Devil's Canyon i7's
Unique to Z97
Z97 was designed to target enthusiasts and gamers. The two biggest features unique to this chipset are:
Support for overclocking of unlocked processors like the Intel Core i7-4770k
Additional PCIe lanes for native support of up to 4-way SLI or CrossFire
Unique to H97
H97 chipset targets the mainstream and Home & Office user. With no support for overclocking, unlocked k skus are wasted here. For business users, the H97 does include Intel Small Business Advantage for support of 5 M Firmware skus.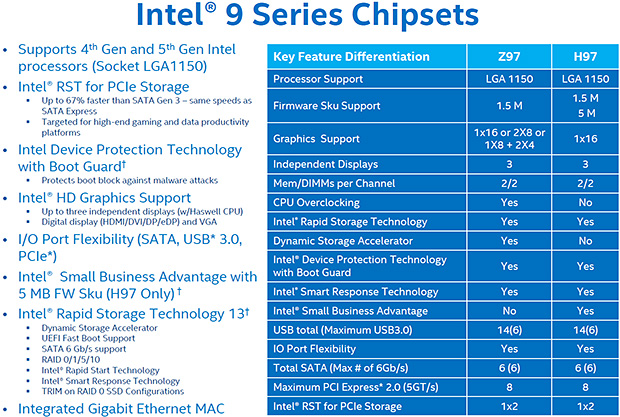 The following two tabs change content below.
Josh Covington
Josh has been with Velocity Micro since 2007 in various Marketing, PR, and Sales related roles. As the Director of Sales & Marketing, he is responsible for all Direct and Retail sales as well as Marketing activities. He enjoys Seinfeld reruns, the Atlanta Braves, and Beatles songs written by John, Paul, or George. Sorry, Ringo.
Latest posts by Josh Covington (see all)