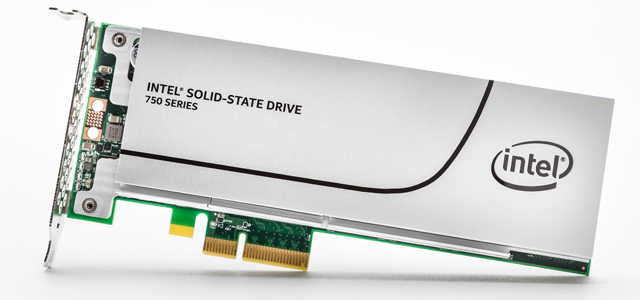 What makes the Intel 750 Series SSD so special?
The Intel 750 Series SSD is the first consumer targeted drive that takes advantage of Non-Volatile Memory Express (NVMe), the new standard for connected hard drives through the PCI Express bus on the motherboard rather than the SATA port that's been the hard drive standard for years. This means since they are no longer being held back by the 600 MB/s throughput maximum of the SATA interface, these new SSDs are crazy fast, even in solid state drive terms. How crazy fast? Well, Intel touts sequential read speeds of up to 2,500MB/s, but that's of course under ideal conditions. Read through our Intel 750 Series SSD benchmarks below to see the real world performance we saw in our tests.
Intel 750 Series benchmarks
Our first test was Roadkil's Disk Speed. The Max Read Speeds of 1.4GB/s (compared to around 500MB/s for SATA SSDs and ~80MB/s for a 7200 RPM) are notable here, but what stands out the most to us is the .02 ms Access Time. Typical SATA SSDs average an Access Time of about .1ms, which itself is 100x faster than the 10-12ms score of a 7200 RPM drive. But at .02ms, the Intel 750 Series is another 5x faster than that, meaning data seek time and latency are very nearly instantaneous which increases the overall responsiveness and ultimately the bench scores of the system.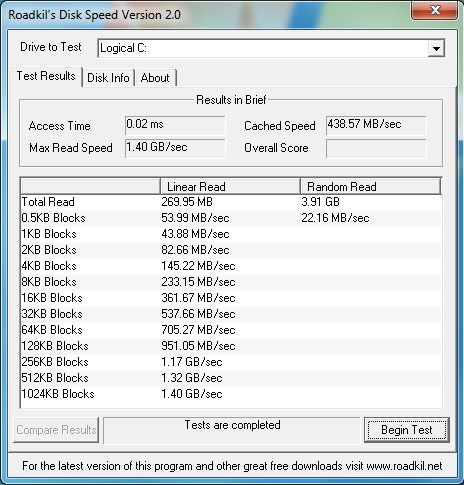 Next up is ATTO Disk Benchmark, one of our personal favorites for measuring hard drive speed. As you can see below, Read speeds were clocked at a transfer rate of 1.68GB/s with these larger files, even higher than our previous tests showed. Remember, typical read speeds are 500MB/s for SATA SSDs and about 80MB/s for a 7200 RPM (.5GB/s and .08GB/s respectively), so these are absolute blistering benchmark speeds.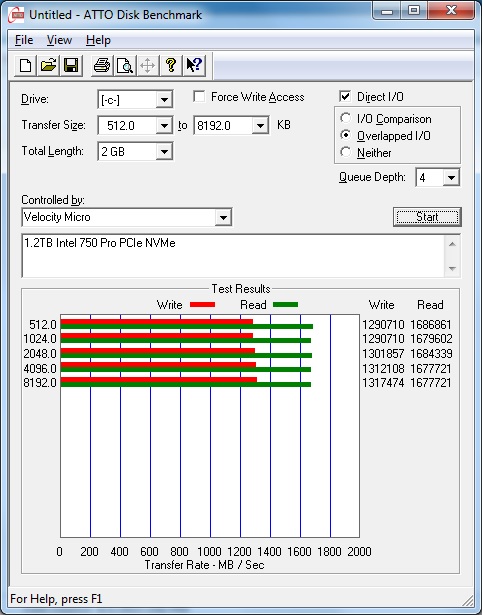 Finally is the tried-and-true Windows System Assessment Tool (WinSAT). Here, you'll see the Sequential read speeds in the same range as previous tests, but almost as impressive are the Random read speeds of around 1.52 GB/s. This means that even when data has not been stored sequentially, reads are still done at a blazing speed.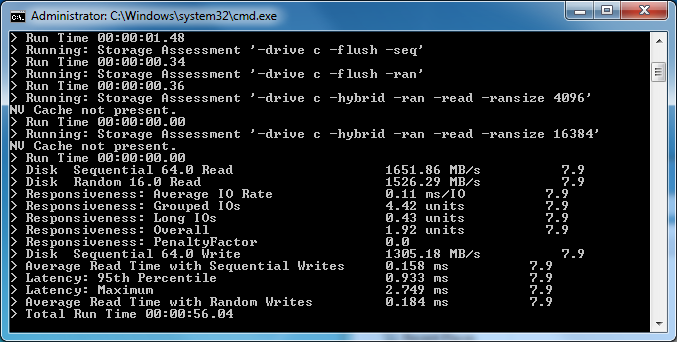 Conclusion
So what does this all mean? In short, the Intel 750 NVMe drives are just as fast as we expected them to be, and maybe even faster. Both read and write speeds are in most cases 3-4x faster than standard SATA SSD drives, which themselves are no slouches, and in many cases close to 20x faster than 7,200 RPM drives. This effectively means that boot times will be reduced even further, programs will launch quicker, and overall responsiveness of the PC will be even better. For these reasons, I have no qualms about calling NVMe drives a true game changer and a must-have for the ultimate workstation or gaming PC.
Intel 750 Series NVMe drives are available now on our Raptor Signature Edition. Click here to configure yours.
The following two tabs change content below.
Josh Covington
Josh has been with Velocity Micro since 2007 in various Marketing, PR, and Sales related roles. As the Director of Sales & Marketing, he is responsible for all Direct and Retail sales as well as Marketing activities. He enjoys Seinfeld reruns, the Atlanta Braves, and Beatles songs written by John, Paul, or George. Sorry, Ringo.
Latest posts by Josh Covington (see all)