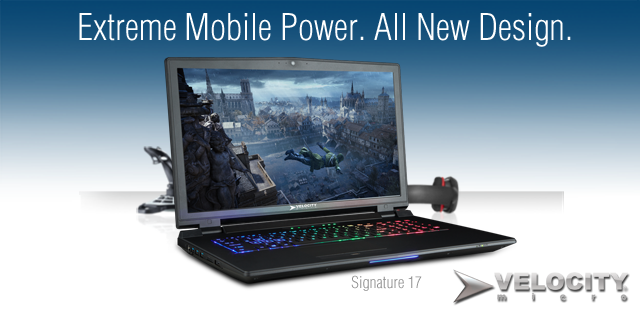 A few weeks ago, we announced our new lineup of ultra-performance laptops. Built for speed and performance by the same team that crafts our award winning desktops, these new laptops are perfect for gaming, media creation, and other enthusiast activities. Now that they've begun shipping (ready in just three days, get yours!) we've put together the following list to help you choose the best gaming laptop for your needs and budget.
Screen
In 2015, it's hard to imagine life before HD so if you go for anything less than a 1080p resolution screen, you'll regret it. A backlit LED is an absolute must as well for brightness and clarity. And For the true gaming or media enthusiast, nothing beats a 4K resolution for total immersion and eye-popping crispness, something that's available as an upgrade on our Raptor MX50.
As far as size goes, that's really a matter of personal preference. The 17" screen is the size of choice for most gamers, but the added size costs you in terms of weight and overall mobility, so choose wisely.
Processing Power
The processor is the brain of the PC – the faster the brain, the better the overall performance will be. For the best gaming laptop, I definitely recommend an Intel i7 mobile processor at the minimum. And if it's the absolute fastest performance that you're really craving, consider a desktop processor like the i7-4790k which is available in our Signature 17 laptop.
Graphics
Just like with a gaming desktop, a discrete graphics solution is the most critical step toward insane frame rates and faster renders. For the best experience, we recommend NVIDIA's GTX 900M series that's offered on our Raptor series, although the GTX 850M is also a great option for the budget or battery life conscious.
Hard Drive Configuration
One area where gaming and other high performance laptops really set themselves apart is in the hard drive options. Whereas most laptops only support a single drive, the best gaming laptops can handle configurations of up to four drives for extreme performance and maximum storage. Our Raptor MX70 laptop for example, can be configured with two M.2 drives in RAID and two additional SATA SSDs for a total of 3TB of storage at 1120MBps.
Cool Features
This is a high performance gaming laptop we're talking about here, not an off the shelf Best Buy flyer special. Speeds and feeds are important, but it's also supposed to be cool, to induce a little envy. Bells and whistles like a back-lit programmable keyboard, biometric fingerprint scanner, and built in subwoofer are all features that add just the right level of panache to the best gaming laptop configuration. You'll find these all in our Raptor MX70 and Signature 17.
Compare all of our new gaming laptops here to find the one that's right for you!
The following two tabs change content below.
Josh Covington
Josh has been with Velocity Micro since 2007 in various Marketing, PR, and Sales related roles. As the Director of Sales & Marketing, he is responsible for all Direct and Retail sales as well as Marketing activities. He enjoys Seinfeld reruns, the Atlanta Braves, and Beatles songs written by John, Paul, or George. Sorry, Ringo.
Latest posts by Josh Covington (see all)