Last year, we wrote a post about what parts and components to look for in the best gaming laptop. But in our industry, things change so quickly that we thought it would be a good idea to revisit the topic and discuss some of the latest advancements in mobile gaming tech. Here then are some updated tips and things to look for when shopping for the best gaming laptop.
Graphics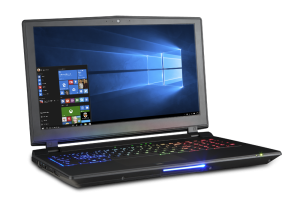 Just like with a gaming desktop, the graphics card (aka video card or GPU) is of critical importance if you want the best gaming experience. But until recently, there was a huge performance gap between desktop graphics cards and their mobile counterparts. Fortunately, thanks to NVIDIA's new 10-Series graphics, that's no longer the case. Now when you buy a laptop powered by the GeForce GTX 1060, 1070, or 1080, you're getting the same GPU as you would if buying a desktop, meaning the days of sacrificing graphics performance for the sake of mobility are in the past. They're worth the additional investment.
For a gaming laptop powered by NVIDIA 10-Series, check out our brand new Signature 17, Signature 15, and ProMagix M17SLI.
Processing Power
Processing power continues to be a critical spec for any computing device, but that's especially true for gaming laptops. We recommend 6th Gen Intel Processors (aka Skylake) which can be found in both mobile versions (in our Raptor MX50 for example) and desktop versions (in our Signature 17 for example).
Screen
For gaming, you want to make sure you have a nice high quality screen. A 1920 x 1080 resolution at minimum is a must, but you should also make sure the screen you choose is IPS which will provide brighter colors and better viewing angles.
RAM
Don't sleep on RAM! Though it's not as important to gaming as the components discussed above, it shouldn't be ignored. DDR4 RAM is now available for laptops, providing over 30% faster speeds (among other improvements) than DDR3 which helps with multitasking and overall smoothness of operation.
The following two tabs change content below.
Josh Covington
Josh has been with Velocity Micro since 2007 in various Marketing, PR, and Sales related roles. As the Director of Sales & Marketing, he is responsible for all Direct and Retail sales as well as Marketing activities. He enjoys Seinfeld reruns, the Atlanta Braves, and Beatles songs written by John, Paul, or George. Sorry, Ringo.
Latest posts by Josh Covington (see all)