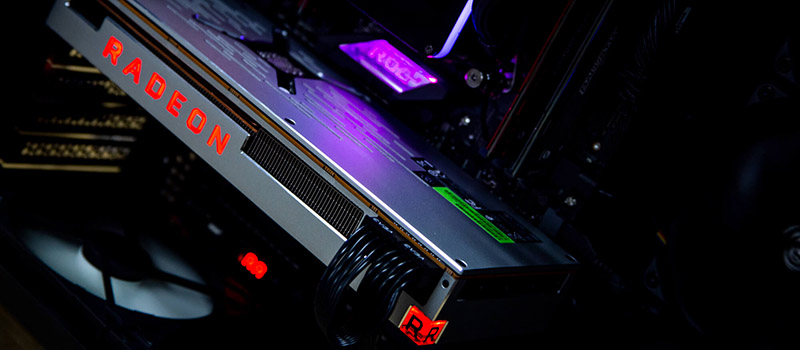 With AMD's recent release of their new Radeon VII graphics card, NVIDIA suddenly has some competition for their RTX 20-Series cards on the high end. But how do the Radeon VII benchmarks compare to the similarly priced RTX 2080? Is it best suited for gaming, professional workstation rendering applications, or something in between? We've spent the past few weeks with the Radeon VII in our labs, putting it through its paces, stress testing, and running benchmarks to help you make an informed decision. While those results aren't quite ready for release just yet, we've compiled the results below from various sources to get you started.
What is the AMD Radeon VII?
The Radeon VII is AMD's newest graphics card released earlier this month. It's based on the same Vega architecture they introduced with the Vega 64 and Vega 56 but with a smaller 7nm node – essentially half the size of those older 14nm cards. This smaller die means electrical charges have a shorter distance to move across the chip, increasing both efficiency and performance. Normally, a smaller node means a physically smaller chip, but that's where AMD has bucked the norms a little. Instead, the Radeon VII is basically the same size as its predecessors but has used that extra space to pack in as much vRAM as possible (for more on vRAM, check out this earlier post), a whopping 16GB of high bandwidth HBM2 RAM to be exact. But how does all of that translate into actual performance? Keep reading!
Radeon VII Benchmarks
Since benchmarks can be highly dependent on the complementary hardware and testing conditions, we always feel it's important to evaluate numbers from several sources before making a decision. To start, our friends at Gizmodo ran a gauntlet of tests. When evaluating the Radeon VII as a gaming card, their benchmarks were mixed, with the RTX 2080 winning some and Radeon VII others.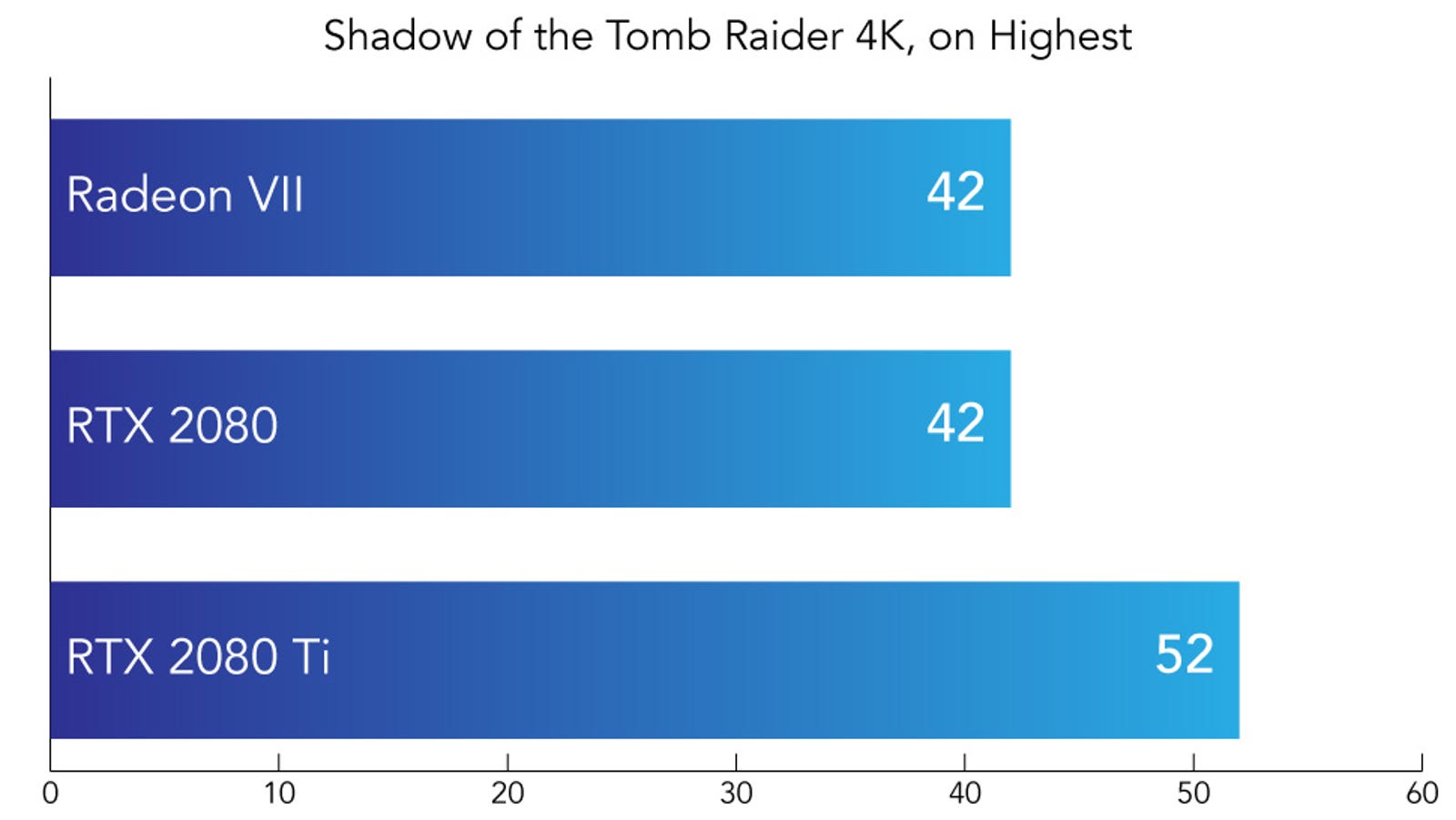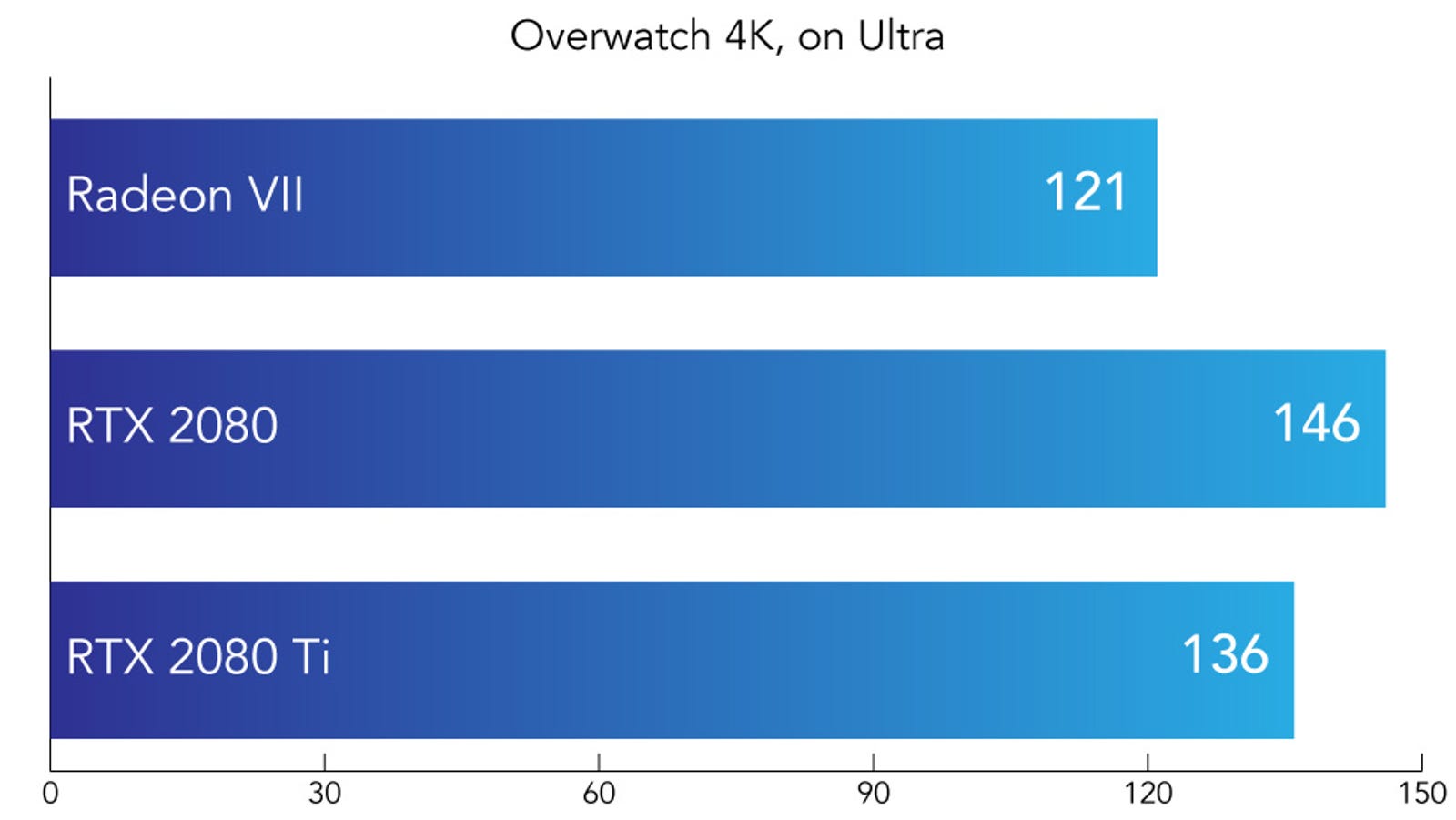 But gaming benchmarks never tell the whole story. In fact, it was in the workstation rendering tests that the Radeon VII really shined when compared to the comparably priced RTX 2080 and more expensive RTX 2080 Ti. Results below show significant performance advantages both in synthetic and real world applications.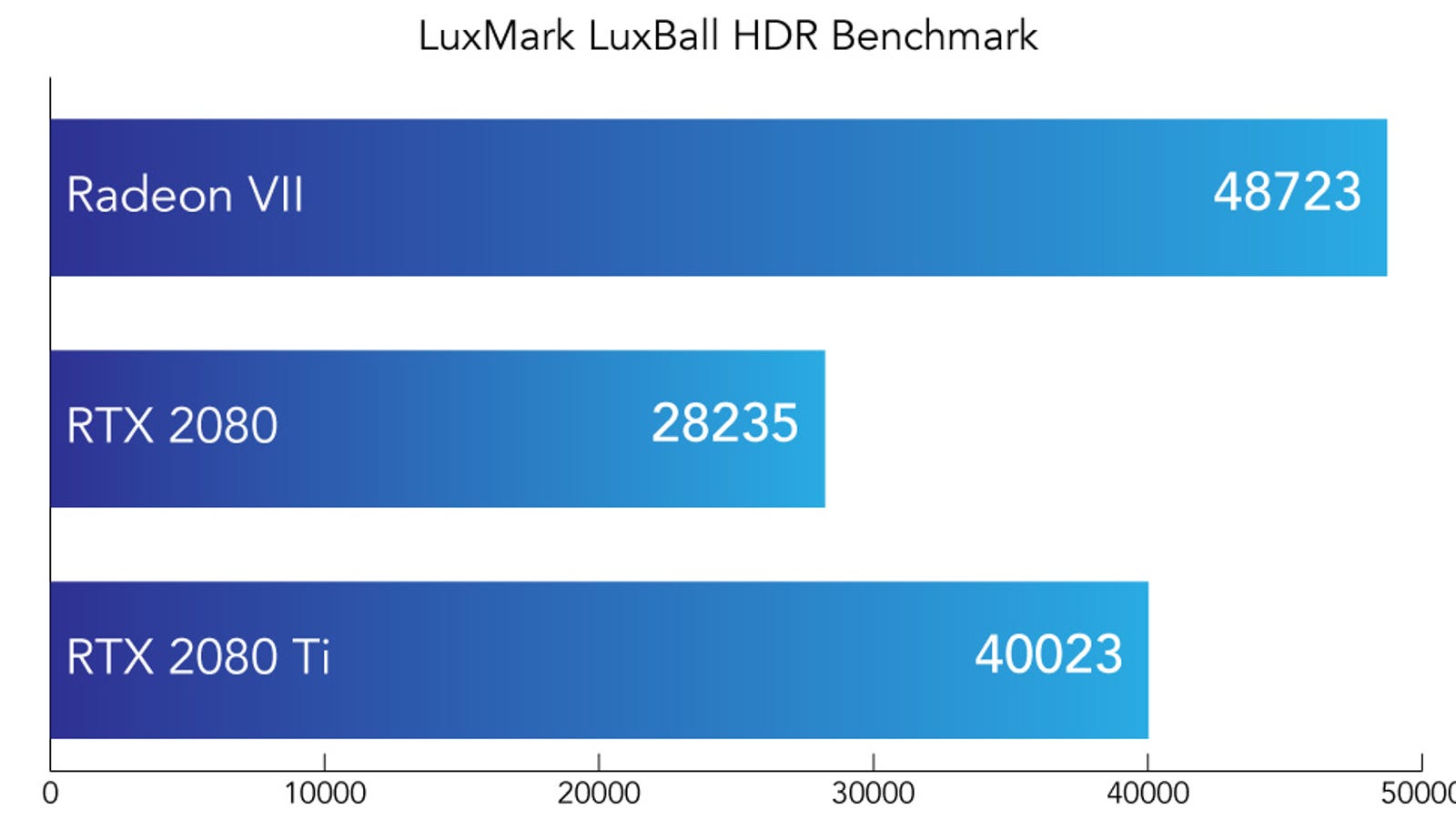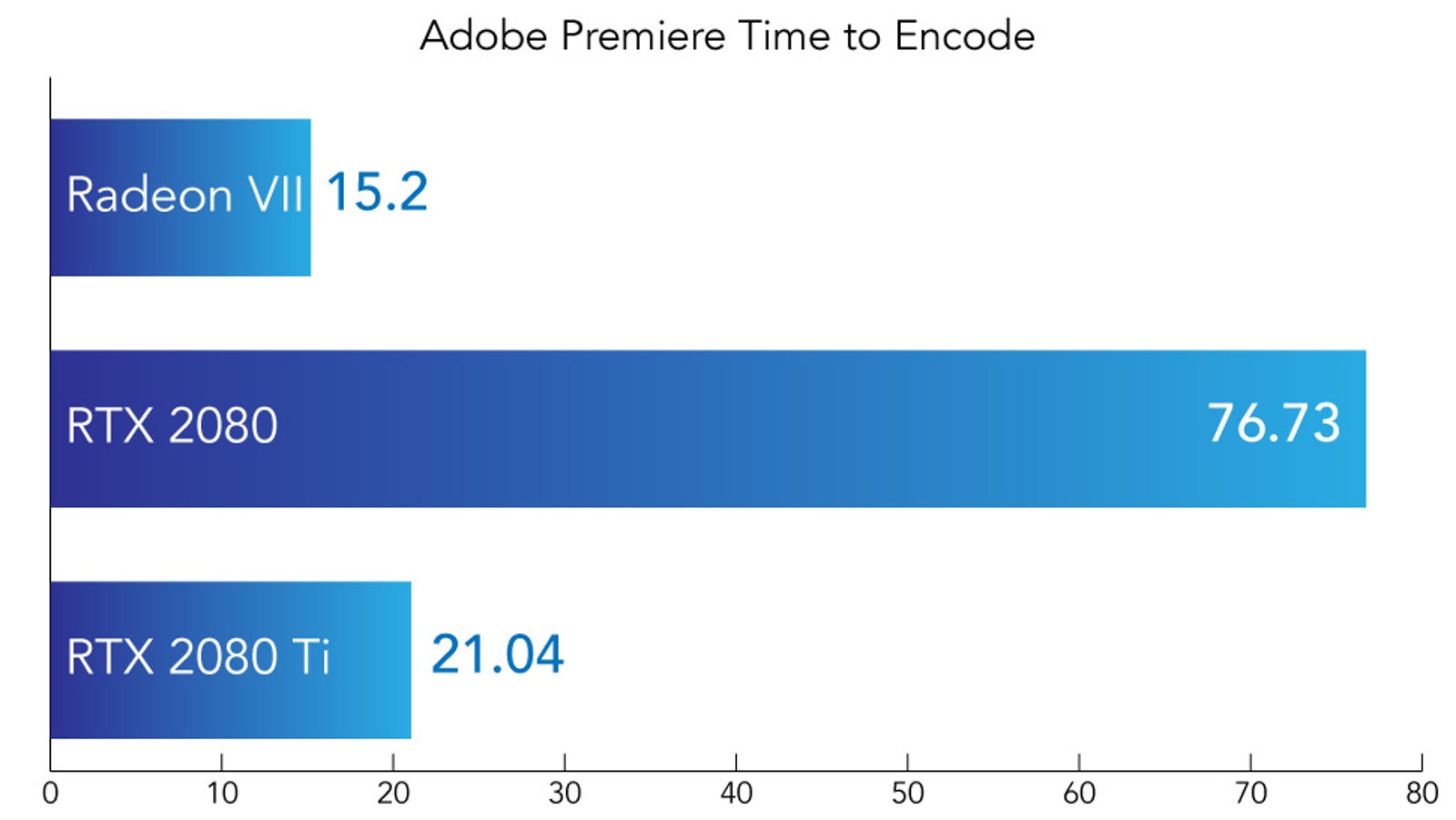 Anandtech also put together a very extensive set of benchmarks and full review of the Radeon VII that's worth checking out. Their results were in line with the rest – generally mixed for gaming with an edge to Radeon for rendering and professional visualization. Since the professional applications present the most interesting results, we're only sharing those here but we do highly recommend checking out their article for a full suite of game or application specific benchmarks.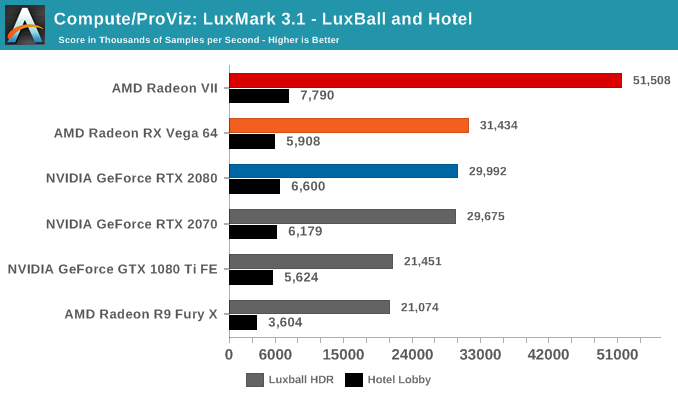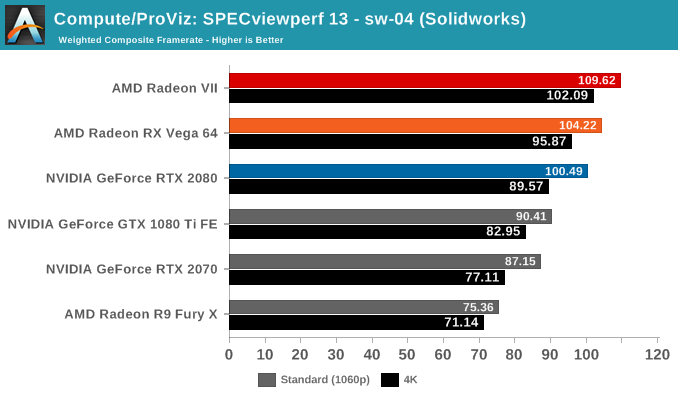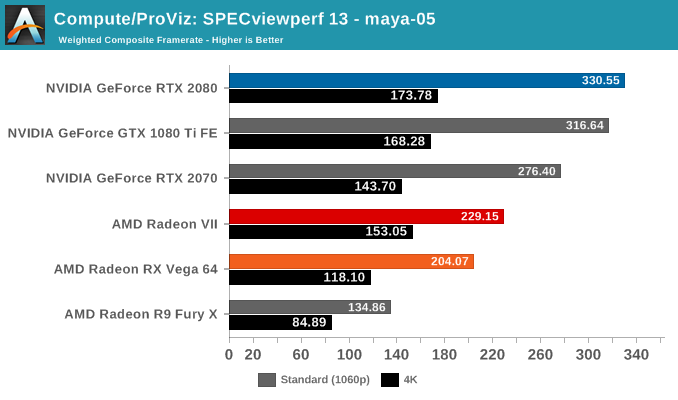 Here, we see the Radeon VII with a significant advantage in both the rendering benchmarks LuxBall as well as the compute/visualization heavy Solidworks benchmark. Interestingly though, the Maya scores were much less impressive, lagging behind every NVIDIA option, a result that was reinforced by our own testing. Given that NVIDIA's drivers are optimized for the latest version of Maya, this data reinforces the importance of software maturity and compatibility as a selection factor, oftentimes over faster, more powerful hardware. The net effect is application specific, so contact your software vendor or our team for further assistance.
Conclusion – Radeon VII vs RTX 2080
So in this price range, which is the better choice – Radeon VII or RTX 2080? Unfortunately, that answer isn't a simple one and does heavily rely on your specific application as shown by these results. For compute heavy applications optimized for CUDA and AAA game titles supporting ray tracing, NVIDIA is still the obvious champ. But for rendering applications which take advantage of AMD's massive amount of vRAM, the Radeon VII has a very strong value proposition, especially given the similar pricepoint to the RTX 2080. Driver support for the specific application in question is a critical factor though and does need to be considered, but our team is here to help. For assistance making the right choice for your specific workflow or current game of choice, reach out to our sales team at 804-419-0900 or vmsales [at] velocitymicro [dot] com.
The following two tabs change content below.
Josh Covington
Josh has been with Velocity Micro since 2007 in various Marketing, PR, and Sales related roles. As the Director of Sales & Marketing, he is responsible for all Direct and Retail sales as well as Marketing activities. He enjoys Seinfeld reruns, the Atlanta Braves, and Beatles songs written by John, Paul, or George. Sorry, Ringo.
Latest posts by Josh Covington (see all)