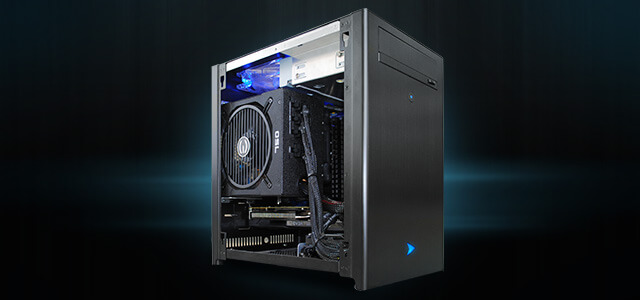 Desktop computers come in a variety of shapes and sizes. Depending on the amount of space you have, placing a small desktop computer on your home or office workstation may be beneficial.
Small Desktop Computer Advantages
While it may not sound like it at first, there are some real advantages to going with smaller computers.
Easy Port Access
Having your computer at arms reach allows you to easily access its ports, whether that be plugging in USB drives, or extra video cables, or checking a connection, you won't have to travel far.
Dust & Damage Prevention
Placing a full-sized desktop PC on the ground can create maintenance issues. When placed on the ground your PC will undoubtedly pull in more dust, especially if you have carpet. It is also more prone to being kicked, bumped into, and at risk for liquid spills.
Performance Diagnosis
Having your PC right next to you can help you identify issues early. If a fan is on the fritz you will be able to hear it. If any error warnings have been triggered, you will be able to see them.
Easy Repairs
The repair process for PC's can be a major headache. We have all had to disconnect, package, and haul a large desktop PC into a local shop or down to IT. They are big, heavy and cumbersome. Small desktop PC's are much lighter and easier to manage.
Style &Looks
Let's face it, big box PC's can be hideous. Small desktop computers tend to be smaller and are typically design knowing they will be seen. Manufacturers seem to put a little more attention into the aesthetics of these compact systems.
Portability
If you ever find yourself in a situation where you want to bring your PC with you. You will undoubtedly be happy you went with a small desktop system. Transporting your computer from the office to your house, or to a lan party is much easier when it doesn't weigh a ton.
The following two tabs change content below.
Charlie O'Donnell
Charlie has been a member of Velocity Micro's team since 2018. He has a love for both graphic design and PC gaming.
Latest posts by Charlie O'Donnell (see all)