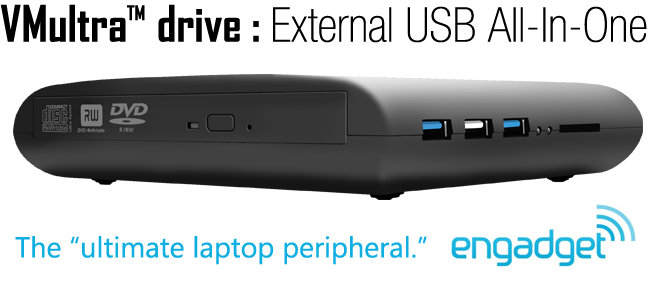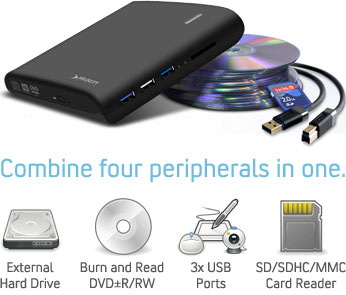 Meet the Vmultra™ Drive. A revolutionary combo device, the Vmultra™ Drive connects via USB 3.0 to your notebook, desktop, or Ultrabook™ for a quick external DVD±RW drive, USB 3.0 hub, SD card slot, and 500GB back-up storage solution. It's the only peripheral you'll need - like having four peripherals all in one!
Who's It For?
Universal connectivity and compact form factor make it the perfect all-in-one peripheral for virtually anyone tired of limited connectivity or juggling multiple devices.
Easy to Use
Powered by the USB port, the VMultra™ Drive provides complete plug and play functionality with virtually no set up. Connect to a wall socket only when using multiple applications at once.
Goes Anywhere
The rounded corners and soft touch finish of the VMultra™ Drive give it a stylish and sleek look. The compact design means this powerhouse fits almost anywhere for easy travel.
What's in the Box?
VMultra™ drive
Adapter
User Manual
USB Cable