An amazing PC starts with a stunning chassis. Meet the new GX3 chassis from Velocity Micro, the new standard for excellence.

We've obsessed over every detail in the GX3 to ensure that it's worthy of everything that Velocity Micro has come to represent – award winning distinction, precision engineering, and extreme PC performance. Learn more below about the amazing new GX3 from Velocity Micro. It's our new flagship chassis, and with good reason.

Get Yours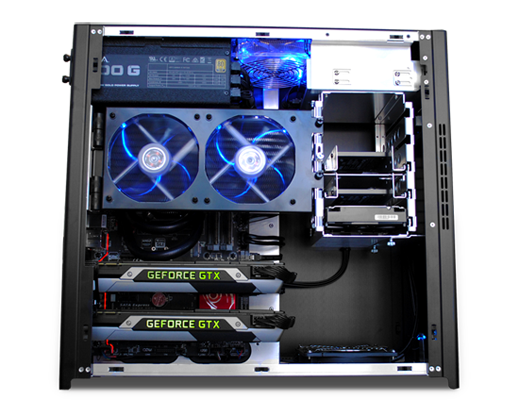 our new flagship
The GX3 chassis is a ATX chassis designed with enthusiasts in mind. Able to handle up to FOUR of the largest graphics cards on the market like the NVIDIA GeForce GTX 980 with ease and supporting the latest motherboards, chipsets, and the most powerful, efficient PSUs on the market, the GX3 is something truly innovative and vastly powerful.


Superior Cooling
We designed the GX3 to dissipate heat even during strenuous activity through the following methods, all resulting in a cooler, more stable PC:
A unique vertical push/pull system sucks air through the bottom of the case, across vital components, and then out through the top fan (in standard configurations). It's letting hot air do what it's always done – rise.
The aluminum chassis works as a giant heat sink, to pull warm air away from your components rather than trapping it like steel or plastic cases do.
An optional 240mm liquid cooling solution pushes CPU heat from a side mounted radiator, allowing for extreme overclocking and better processor longevity.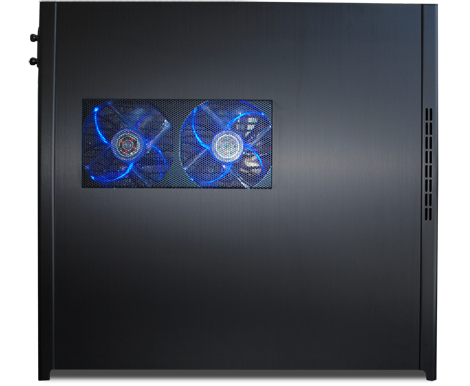 Innovative Design
Able to hold up to SIX hard drives, the GX3 is in a class by itself.
Quick release, hot swappable hard drive cage makes upgrades simple and toolless.
Maximum, simple connectivity. With top mounted dual USB 3.0 ports along with microphone and headphone jacks, connectivity of your favorite peripheral devices just got easier.


Sleek Aesthetic
We intended the GX3 to be sleek and modern, with an aesthetic that fits in any office, dorm, or living room. The solid front panel, clean straight lines, and understated lighting is a welcome change to the flashy and garish designs of the performance PC industry.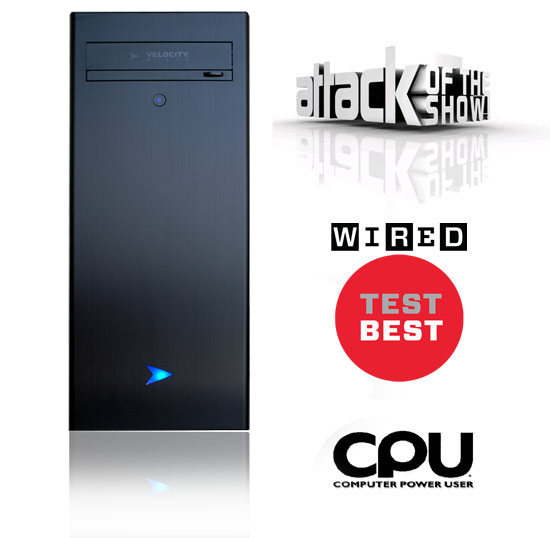 This is a PC you'll be proud to show off.
Powerful now, Upgradeable later
Plenty of space, open hard drive slots, and all of that cooling prowess mean, the GX3 was designed to not only be the most dynamic chassis we've ever sold, but one that can handle the upgrades of the future.
A Legacy of Excellence
Since our first review in 2002, no PC manufacturer has won more awards from the press than has Velocity Micro. Featured in CNET, PC Magazine, PC Gamer, Maximum PC and many more, Velocity Micro PCs continue to be lauded by reviewers and customers alike for its performance, build quality, and stunning design. Read our latest review!

"The best computer company I have dealt with ever." -Ross D.
"hands down the best PC I have ever owned."- Bill B.
"BEST PC I HAVE PURCHASED TO DATE." – Fernando C.

Read Reviews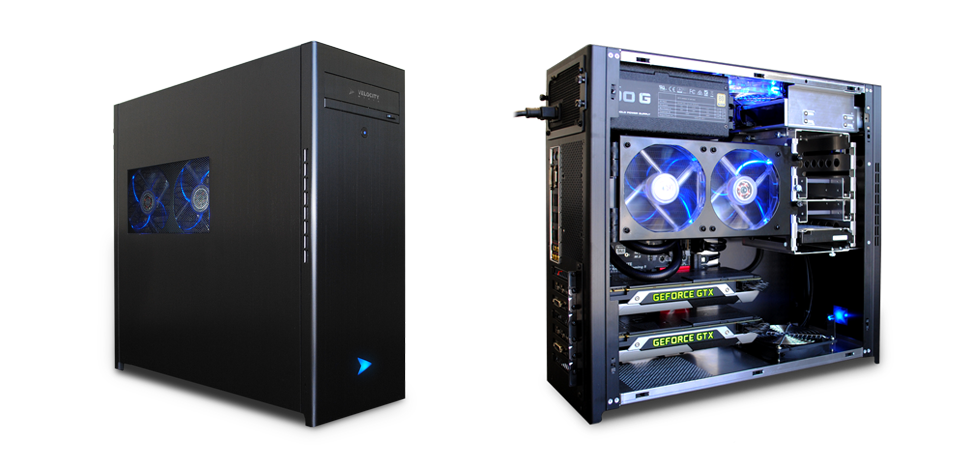 | | |
| --- | --- |
| Raptor Z95 | ProMagix HD80 |
| Meet your dream PC. Designed and assembled by master craftsmen, each custom assembled Raptor™ Z95 spends a full week being tuned, tested, and benchmarked for optimal cooling, performance, and longevity. Every screw is turned by hand and every wire tucked away with care. Every part is specially chosen for maximum performance and reliability. There's a reason that this system is one of our most award-winning. Now featuring Haswell-E Processors, X99 Motherboards, and DDR4 Memory! | Presenting the ProMagix HD80. Designed for professional-level workstation applications, the HD80 pulls no punches, perfect for multimedia creation, 4K video editing, 3D modeling, and CAD. We use only the very best professional grade parts like Xeon processors with up to 10 cores, NVIDA Quadro graphics, and WS-class motherboards for superior performance, reliability, and longevity. Experience the difference that true engineering perfection can make to your creation with the ProMagix HD80. |
| Starting at $2,299 | Starting at $1,869 |
| | |