T510 | T508 | T410 | T408 | PS47 | T301 | T100 | R100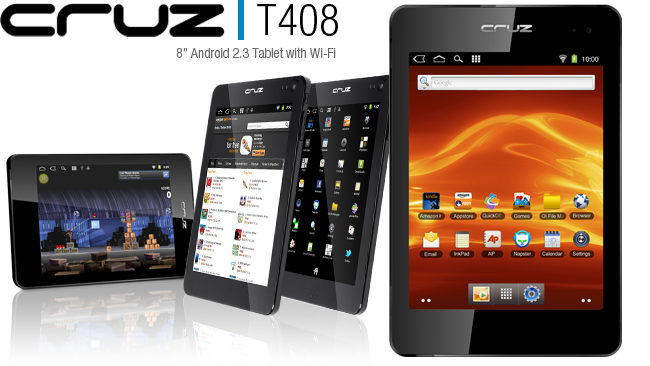 A larger screen without the price tag, the 8" Velocity Micro Cruz T408 is perfect for multimedia lovers in search of a more robust experience. The T408 squeezes tons of features and ultra-fast performance into a smart, sleek design comparable with the more expensive competition.
Capacitive touch screen, front facing camera, Android 2.3 (Gingerbread), 802.11n wifi, 1GHz Cortex A8 processor, a premium software suite, and content via Amazon Kindle for Android and Amazon Appstore for Android create an amazing feature set at a remarkable value. A fully licensed version of Adobe Flash Player 10.3 brings the best of the web right in the palm of your hand. Backed by Velocity Micro's expert US-based support.

Out of Stock