If you're looking for a gaming PC powerful enough to dominate the sport of Sim Racing, look no further. Velocity Micro PCs are custom built by a team of expert engineers using only the finest retail grade parts for superior performance and longevity. The road toward a faster Sim Racing set up begins right here. Learn more about Sim Racing and how Velocity Micro can take your game to the next level below.

Choose a PC
What is sim racing?
Sim Racing is a sophisticated racing simulation that can pit actual virtual racers from across the world against one another. Often sim racers participate in leagues and circuits to compete for championships just like real world racing. To be successful, sim racers must take all of the variables into account that make real-world racing so challenging, including tire wear, suspension, fuel economy, and vehicle damage, making it a much more dynamic and complete experience than arcade style racing.
Ultra-Performance PCs
To compete against some of the best sim racers in the world, racers need the very latest PC hardware to render the complex graphics associated with these simulations, withour stutters or hiccups. That's where Velocity Micro comes in. Since 2002, we've built some of the most benchmark-crushing ultra-performance PCs on the market, helping racers like you dominate their circuit.
---
looking for a complete driving simulator?
If you're looking for a hand-built, full sized racing simulator to go with your ultra-performance desktop, we've got you covered. Our RennSeat Pro is the ultimate driving simulator package featuring solid steel construction, the RennSeat is designed and configured for iRacing simulation and hardcore immersive gaming. Powering it all is Velocity Micro desktop specifically configured to ensure silky smooth sim performance along with 100% US-based support to get you up and racing right away.
---

Meticulous Handcraftsmanship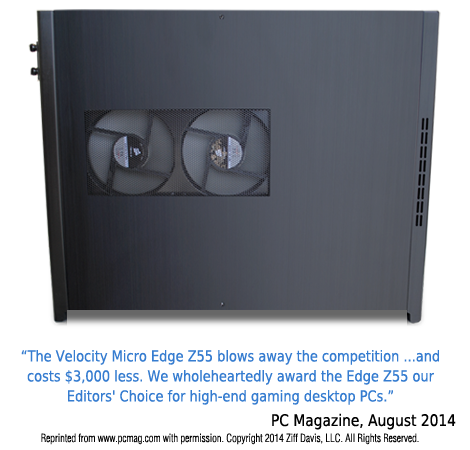 We're obsessed with perfection – there are no assembly lines here. As with all Velocity Micro PCs, each ProMagix™ HD80 is hand built by expert engineers, meaning every screw is turned by hand and each cable is clipped and tucked away with care. The end result is better airflow and thermal properties, translating into a more stable, longer lasting PC that's easier to service and upgrade.
A Legacy of Excellence
Since our first review in 2002, no PC manufacturer has won more awards from the press than has Velocity Micro. Featured in CNET, PC Magazine, PC Gamer, Maximum PC and many more, the HD80 continues to be lauded by reviewers and customers alike for its performance, build quality, and stunning design.

"The best computer company I have dealt with ever." -Ross D.
"hands down the best PC I have ever owned."- Bill B.
"BEST PC I HAVE PURCHASED TO DATE." – Fernando C.

Read Reviews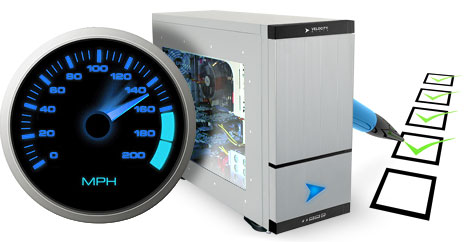 Quality Control
Before shipping, the ProMagix™ HD80 endures a grueling set of tests and quality control measures that would bring most systems to their knees. Stress tests, extensive reboots, an overnight burn in, and an exhaustive 200-point QA checklist ensure that every ProMagix™ HD80 meets our own lofty standards.

Sure, it's more work. But no one ever said that creating something this remarkable would be easy...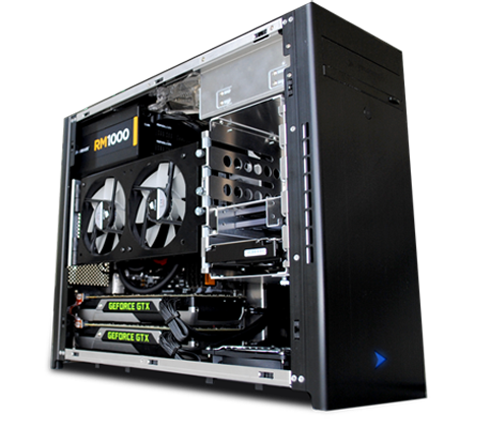 100% US-Based Tech Support
Every Velocity Micro PC comes with complimentary lifetime business hours phone support. And the best part – a call placed to our expert, non-tiered support team will never be routed anywhere offshore. Not ever. It's like having your own personal geek, just a phone call away.

It costs us more, but we refuse to let anything get in the way of an astonishing customer experience.
Based in the USA
Each and every Velocity Micro PC is designed and supported our Richmond, VA headquarters. We don't outsource. We don't cut corners.

We don't compromise. It's just that simple.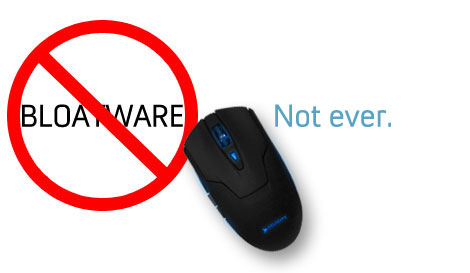 No Bloatware
If you've ever bought a computer from the behemoth, mass produced competition, you know bloatware. Free trials you don't want, software you didn't ask for, search bars you'll never use – all choking your system.

We don't do it, and we never will. With Velocity Micro, we only install what you ask us for, and not a thing more.
| | | |
| --- | --- | --- |
| | | |
| Raptor Z55 | Raptor Z40 | Raptor Z95 |
| Made famous by tournament gamers the world over, the Raptor™ Z55 is the perfect blend of ultra-performance hardware, expert engineering, and remarkable value. Designed and refined to be as close to midrange perfection as possible, this PC crushes benchmarks without crushing wallets. It's the true embodiment of our New PC Experience. And the epitome of our ongoing quest to create a flawless PC. Our latest award winner! | Designed for lighter gaming, media editing and creation, and enthusiast activities, the lean and mean Raptor™ Z40 is a head-turner. By combining the very latest bleeding Raptor components with our trademarked care and craftsmanship, we've created a PC that surpasses even our own extreme standards. A perennial award-winner for a reason. Truly remarkable. | Meet your dream PC. Designed and assembled by master craftsmen, each custom assembled Raptor™ Z95 spends a full week being tuned, tested, and benchmarked for optimal cooling, performance, and longevity. There's a reason that this system is one of our most award-winning. |
| Starting at $1,549 | Starting at $1,179 | Starting at $2,099 |
| | | |