T510 | T508 | T507 | T501 | T410 | T410r | T408 | T408r | PS47 | T301 | T100 | R100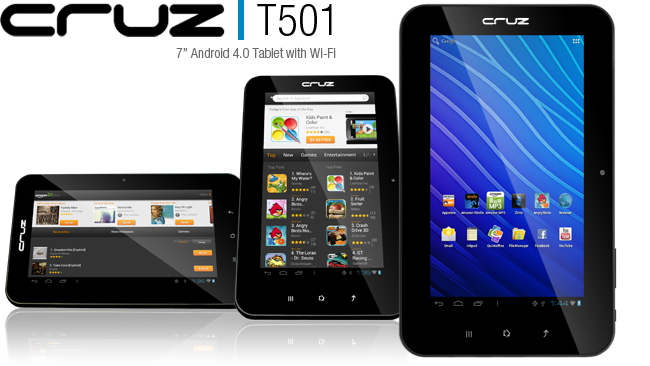 From Velocity Micro, the foremost builder of premium desktop PCs, comes an amazing 7" tablet at a remarkable price. Capacitive touch screen, front facing camera, Android 4.0 (Ice Cream Sandwich), 802.11n wifi, 1.2GHz Cortex A10 processor, a premium software suite, and content via Amazon Kindle for Android and Amazon Appstore create an amazing feature set at a remarkable value. A fully licensed version of Adobe Flash Player 11 brings the best of the web right in the palm of your hand. Backed by Velocity Micro's expert US-based support.
Cruz is the premier brand of Android based tablets from the foremost builder of finely crafted desktops in North America, Velocity Micro. All Cruz products are built with the same attention to detail and expert craftsmanship that have made Velocity Micro famous amongst PC enthusiasts for years. Since our first review in 2003, no other PC builder has been able to match Velocity Micro in value, performance, and quality. Those are the ideals that Velocity Micro was founded on. That is the premium legacy that comes with the Cruz.
All Velocity Micro Cruz tablets are covered by non-tiered, in-house support, 100% based in the USA along with a 1-year parts and labor warranty. A call placed to our expert support team will never be routed anywhere offshore. Not ever.
Coming Soon!