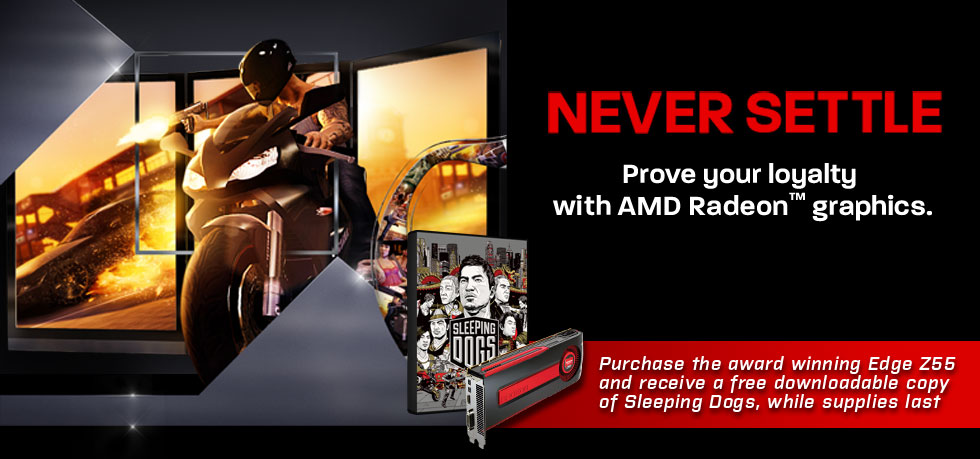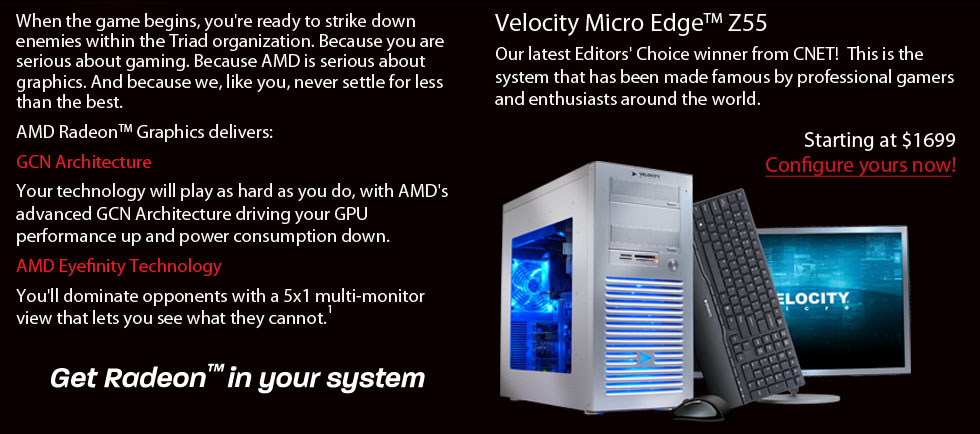 *Get a free download key for a free download of Sleeping Dogs (PC Game) accessed through Steam® online game platform when you buy select AMD products from a participating retailer. See www.amd.com/sleepingdogsoffer. Limited time offer. Expires August 31, 2013 or when supply of free download keys is exhausted, whichever occurs first. Download key must be used to obtain download on or before September 30, 2013. LIMIT: One (1) free download key per game per person. Internet connection required. Internet connection fees may apply. You must be 16+ to redeem this offer. Offer is subject to geographical limitations. See www.amd.com/sleepingdogsoffer for complete details. Anticipated release date for Sleeping Dogs is on or before August 14, 2012 (actual release date will vary by country), although game releases may be delayed for reasons that are out of the control of AMD. Visit https://sleepingdogs.net/ or www.amd.com/sleepingdogsoffer for more information. Void in Japan and any country where prohibited.
1AMD Eyefinity technology works with games that support nonstandard aspect ratios, which is required for spanning across multiple displays. To enable more than two displays, additional panels with native DisplayPort™ connectors, and/or DisplayPort™ compliant active adapters to convert your monitor's native input to your cards DisplayPort™ or Mini-DisplayPort™ connector(s), are required. Support for six simultaneous displays may require complementary products compatible with DisplayPort 1.2 Multi-Stream Transport. Maximum number of configured displays may vary—check with your component or system manufacturer for specific model capabilities and supported technologies. SLS ("Single Large Surface") functionality requires an identical display resolution on all configured displays.
© 2012 Advanced Micro Devices, Inc. All rights reserved. AMD, the AMD Arrow logo, Radeon, and combinations thereof are trademarks of Advanced Micro Devices, Inc. All rights reserved. SLEEPING DOGS © 2012 Square Enix, Ltd. All rights reserved. SLEEPING DOGS, the SLEEPING DOGS logo, SQUARE ENIX and the SQUARE ENIX logo are registered trademarks or trademarks of the Square Enix Group.